Two Effective Initiatives for C-Suite Leaders to Improve Medication Safety and the Reliability of Outcomes
As an industry, healthcare suffers from a high rate of failure—as many as 440,000 patients in hospitals suffer some type of preventable harm that contributes to their death each year, making medical errors the third leading cause of death in the US.1 Even with significant investments in technology, system design, and people, reliable patient outcomes have often been elusive given the inherent risks associated with the delivery of healthcare and the constant struggle to balance costs, quality, and safety. Can healthcare be safe? Can we really achieve highly reliable patient outcomes given human fallibility and the risky, unforgiving environment in which we work?
The unequivocal answer is yes. When David Marx, a culture and system reliability expert, talks about the way to achieve highly reliable outcomes, he points out that organizations will be reliable only around those things that they truly value and are willing to devote significant time and resources towards.2 This is where each organization's senior leaders come into play—it is the C-suite leaders who decide what the organization values the most and for what they are willing to work hard to achieve.  
To achieve reliable patient outcomes, safety must be one of the things leaders clearly want to be good at, a core value that cannot be reordered in the wake of competing priorities. Leaders must acknowledge human fallibility and the inherent risks associated with the delivery of care, thus centering this core value on realistic expectations—they must chase reliability, not zero errors.2 They must also effectively communicate this message to the entire organization in specific terms, not jargon or safety slogans, and their message must be reflected in their behavior to be credible.
Broad-brush improvement efforts will only get you so far.2 Marx suggests that, to achieve extraordinary results, senior leaders must put in a lot of heavy lifting, tackling one type of undesired safety outcome at a time.2 In this regard, ISMP has identified two strategic initiatives related to medication/patient safety that we believe senior leaders should undertake to significantly improve reliable patient outcomes and to communicate to the organization that safety is a core value fully supported by leadership and worthy of the hard work needed to achieve—it's what the organization wants to be good at. While there are many medication and patient safety initiatives worthy of consideration, these two initiatives clearly require strategic leadership to be successful and are very likely to result in highly reliable patient outcomes. They represent a perfect opportunity for leaders to get involved in medication and patient safety in a meaningful and efficient way.
Strategic Initiative 1: Implementation of ISMP's Targeted Medication Safety Best Practices
In 2014, ISMP first launched the Targeted Medication Safety Best Practices for Hospitals, a set of six carefully selected, consensus-based interventions that address ongoing medication safety issues that continue to cause fatal or harmful errors in patients despite repeated warnings in ISMP publications. In 2016, five more targets were added to the Best Practices (Table 1).3 The Best Practices are realistic, achievable, and highly effective interventions that will clearly improve patient outcomes by reducing or eliminating errors and/or mitigating patient harm. To keep the momentum moving forward, every 2 years new Best Practices are selected by ISMP and a national advisory group of safety experts and added to the list.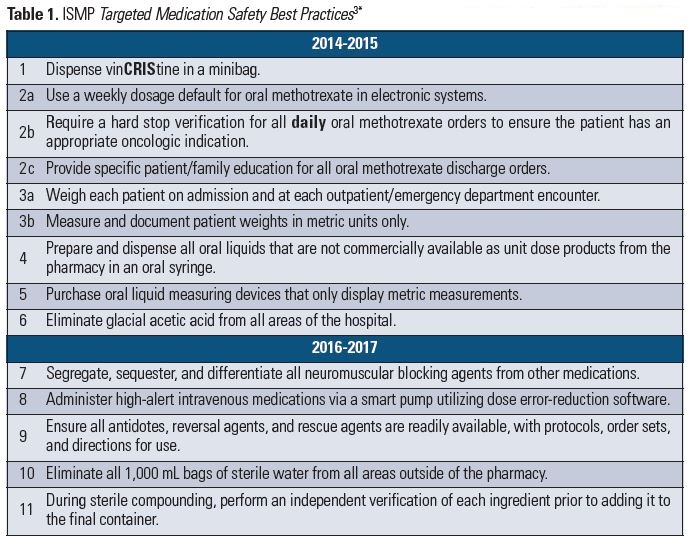 The Best Practices are intended to inspire and mobilize widespread national adoption, and with senior leadership committed to their implementation, this is beginning to happen across the country. In fact, in 2016, ISMP honored Ascension, the largest nonprofit health system in the US, with an ISMP Cheers Award for integrating the 2014-2015 Best Practices into the culture and operations at each of its 141 hospital sites. Their success far exceeded modest national efforts and was only possible with the full support and guidance of the senior leadership team.
Leadership commitment to the Best Practices
It can be a challenge to encourage and sustain participation by senior leaders who are managing multiple competing priorities. So, how did Ascension do it? The senior leaders at Ascension already had a strong commitment to helping the organization achieve highly reliable outcomes by designing great systems around their employees, building a Just Culture, and developing surveillance systems that allowed the organization to learn. Thus, the Best Practices were first reviewed and approved by the organization's "high reliability" steering committee. Then, the organization's most senior leaders set well-defined, nonnegotiable goals to embark on a journey to implement the 2014-2015 Best Practices within 180 days in all hospitals in the health system. A memorandum, endorsed by the executive, medical, nursing, pharmacy, and safety leadership, was drafted to explain the objective clearly. The leaders then cultivated a strong commitment to this objective with the chief executives at each hospital site, who were encouraged to engage all managers and local staff early in the drive to change.
To start, the organization initiated a collaborative effort to identify the gaps in the current implementation of the Best Practices and any real or perceived barriers to their implementation through self-reported survey data, leadership rounds, manager-led safety huddles, corporate-wide information gathering calls, and leadership observations. After that, while the leaders insisted on implementation of the Best Practices, they simultaneously allocated significant resources to build an infrastructure to help ensure their success. They built a corporate-wide system of support by initiating and leading monthly mentoring calls; they built an Intranet platform to share success stories and the tools and systems that helped move implementation of the Best Practices forward; they reserved adequate time for the leaders in all 141 hospitals to participate in collaborative learning experiences; they established interdisciplinary teams to identify and address any barriers to implementation; they were actively engaged in the improvement efforts firsthand, providing leadership for infrastructure management, results reporting, and overcoming any barriers to implementation of the Best Practices.
The leaders also required frequent, focused reviews of progress and a disciplined format for measuring and reporting results, even engaging an independent consulting team to evaluate compliance with the Best Practices in a sampling of more than 65% of the hospitals in the system. And while the senior leaders clearly minimized the risk of failure, they imposed no observable consequences for failures, instead attempting to understand the failures and working to address them in hospitals with varying capabilities and resources. As a whole, the organization demonstrated a statistically significant increase (26.44%, p < 0.0011) in implementing all the 2014-2015 Best Practices. Well more than 85% of all hospitals in the system were compliant with most of the Best Practices, and the health system as a whole was impressively above national compliance levels for implementation of all of the Best Practices. 
The vast improvement in adopting the Best Practices in this large organization was attainable largely because of the strong commitment and ongoing support that senior leaders provided for this strategic initiative, which we hope will provide a roadmap to the leaders in other organizations who want to achieve similar success.
Strategic Initiative 2: Creating a Learning Organization
Learning is the precursor to change. From the perspective of senior leaders, it's the difference between trying to make the workforce perform flawlessly and understanding the constraints that are keeping them from flawless work.4 To learn, organizational leaders must have reliable safety information systems in place to collect, analyze, and communicate information about risks and errors; workers must be prepared to report risks, errors (including close calls), and any barriers to safe work; and the leaders must possess the willingness and competence to draw responsible conclusions from the safety information and facilitate substantial changes when necessary.5 A learning culture is probably the easiest to engineer and the hardest to make work in healthcare.5 Two significant reasons for this difficulty lie with the challenges associated with learning from the mistakes of others, and our resourcefulness in fixing problems in the moment but then forgetting to report them so long-term solutions can be explored and implemented.
There are two tangible and constructive ways that leaders can take an active role in overcoming these barriers to learning and promoting a learning organization. The first way is to develop an infrastructure for required review of published risks and external errors so the organization can learn from the experiences of others. The second way is to establish a forum for welcomed visibility of leaders in patient care units so they can learn firsthand from frontline staff about the barriers to safe care. 
Learning from external errors and using the ISMP Quarterly Action Agenda
One of the most important ways to prevent medication errors is to learn about problems that have occurred in other organizations and to use that information to prevent similar problems at your practice site. Experience has shown that a medication error reported in one organization is also likely to occur in another, given enough time. Because there's a natural human tendency to "normalize" errors that happen elsewhere and believe they will never happen to you,6 leaders must convey that these external errors offer valuable and necessary learning opportunities and must be sought out and reviewed regularly. They must convey that the organization is vulnerable to errors, and that they consider external errors to be a "clear and present danger" in their organization for which steps must be taken to prevent a similar occurrence.
To establish an infrastructure for learning from external errors, leaders should identify reliable sources of information, establish a systematic way to review this information, assess the organization's vulnerability to similar events, and determine a workable action plan to address any vulnerabilities.
To facilitate such a process, ISMP publishes the Quarterly Action Agenda in January, April, July, and October to summarize important topics published in the ISMP Medication Safety Alert! during the previous 3 months. The Quarterly Action Agenda was initiated 19 years ago to encourage organizations to use information about safety problems and errors that have happened in other organizations to prevent similar problems or errors in their practice sites. The Agenda is prepared for leadership to use at an interdisciplinary committee meeting and with frontline staff to stimulate discussion and action to reduce the risk of medication errors. Each item in the Agenda includes a brief description of the medication safety problem, a few recommendations to reduce the risk of errors, and the issue number to locate additional information. The Agenda is available in a PDF and Microsoft Word format, the latter of which allows organizations to document an assessment of their vulnerability to a similar error, actions required, and assignments for each Agenda item. This format facilitates reporting to senior leadership about the progress being made to assure that potentially harmful conditions identified as causing external errors are not present or are being addressed. The Quarterly Action Agenda is a useful tool for leaders to proactively address known medication safety issues that could otherwise lead to a harmful patient outcome in their organization. 
Learning about barriers to safety through leadership rounds
Healthcare practitioners are repeatedly challenged by unexpected problems in their day-to-day work—up to one system failure every hour has been found to hinder patient care.7 They respond to these dysfunctional processes with first-order problem solving, addressing only the immediate symptoms they encounter. As a result, they tend to be very skilled and proficient at improvising with what they have on hand to create a solution to the problem or to work around it to get the job done.8 Unfortunately, roughly 93% of practitioners faced with a problem often fix it in the moment and forget about it, rather than fixing it and then reporting it.9-11 They are not necessarily trying to hide this information—instead, reporting often does not occur because they are simply pressed for time after being forced to quickly patch problems so they can carry out their immediate responsibilities.10 We tend to encourage this aspect of critical thinking, problem-solving, resilience, and independence, but it comes at the expense of system learning.
While practitioners should be encouraged to both handle unexpected problems and then report them so steps can be taken to address their underlying causes, leaders visible and accessible on patient care units can also serve as a means for learning about these daily system failures and other risks that might threaten patient safety. Leaders who are regularly present in work areas and responsive to practitioners' messages can quickly learn invaluable information upon which proactive interventions can be planned and implemented to improve the reliability of patient outcomes.
The Institute for Healthcare Improvement (IHI) (which recently announced plans to merge with the National Patient Safety Foundation) has described such a process, called Patient Safety Leadership WalkRounds.12 These rounds are designed to open the lines of communication about patient safety among employees and senior leaders so learning can occur, and to demonstrate leadership's commitment to safety and communicate its value within the organization. IHI offers detailed instructions for senior leaders to conduct at least weekly, confidential rounds with 3-5 employees in rotating patient care units. A sample script with the types of questions to ask covering harm, risk, errors, system failures, and suggestions for error prevention and leadership interventions is provided, along with methods to measure success with the rounds. Leadership discussions with staff about problems encountered is often less threatening than discussion of actual errors and may be a great starting point that offers invaluable information upon which proactive interventions can be planned and implemented.13
Conclusion
Widespread implementation of the Targeted Medication Safety Best Practices for Hospitals and the creation of an infrastructure for learning using the Quarterly Action Agenda and Patient Safety Leadership WalkRounds are efforts worthy of healthcare leaders who truly value medication and patient safety and want to achieve extraordinary results. These tools represent just a snapshot of how ISMP and other organizations can help healthcare leaders communicate and demonstrate the value of patient safety to the organization and their commitment to improve the reliability of patient safety outcomes.
References
James JT. A new, evidence-based estimate of patient harms associated with hospital care. J Patient Saf. 2013;9(3):122-8.
Marx D. There is no such thing as a high reliability organization. What We Believe. 2017;1(1):1-2.
ISMP. 2016-2017 Targeted Medication Safety Best Practices for Hospitals. 2016.
Senge P, Kleiner A, Roberts C, Ross RB, Smith BJ. The Fifth Discipline Fieldbook: Strategies and Tools for Building a Learning Organization. New York, NY: Doubleday;1994.
Reason J. Managing the Risks of Organizational Accidents. Hants, England: Ashgate Publishing Ltd;1997.
ISMP. Using information from external errors to signal a "clear and present danger." ISMP Medication Safety Alert! 2017;22(3):1-4.
Tucker AL. Workarounds and resiliency on the front lines of health care. Perspectives on Safety. August 2009.
ISMP. Reporting and second-order problem solving can turn short-term fixes into long-term remedies. ISMP Medication Safety Alert! 2016;21(10):1-4.
Tucker A, Edmondson A, Spear S. Why your organization isn't learning all it should. Harvard Business School Working Knowledge. July 30, 2001.
Edmondson AC. Learning from failure in health care: frequent opportunities, pervasive barriers. Qual Saf Health Care. 2004;13(Suppl II):ii3-ii9.
Hewitt TA, Chreim S. Fix and forget or fix and report: a qualitative study of tensions at the front line of incident reporting. BMJ Qual Saf. 2015;24(5):303-10.
Frankel A. Patient Safety Leadership WalkRounds. Institute for Healthcare Improvement. 2004.
The Joint Commission. The essential role of leadership in developing a safety culture. Sentinel Event Alert. 2017;57:1-8.