Lot number or expiration date?
A vial of droperidol (5 mg/2 mL, American Regent) appears to have expired on January 24, 2020 (Figure 1). However, 2020 is actually the lot number, as noted by the small words printed just below the barcode. Thus, the last day of January 2024 is the actual expiration date. Displaying a 4-digit lot number that is similar to a recent year, and listing it right next to the expiration date, contributes to confusion. This could lead to unnecessarily discarding what is thought to be an expired medication, a situation made worse because the medication has been on the drug shortage list.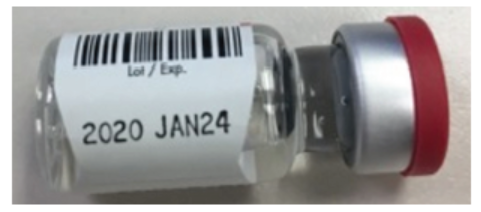 The practitioner who reported this to ISMP contacted the manufacturer about this issue, as did we. If the lot number needs to be numerical, manufacturers should consider using at least 5 numbers, and perhaps incorporating letters at the beginning and/or end of the lot number to differentiate it from the expiration date. USP General Chapter <7> Labeling will be requiring manufacturers to use a 4-digit year on their products by 2023. In May 2022 (see Your Reports at Work), the US Food and Drug Administration (FDA) released a labeling guidance document, Safety Considerations for Container Labels and Carton Labeling Design to Minimize Medication Errors, which also includes a 4-digit recommendation for the expiration date year.
Access this Free Resource
You must be logged in to view and download this document.