Infuvite vials 1 and 2 have the same NDC and barcode
INFUVITE ADULT, manufactured by Sandoz Canada and distributed by Baxter, is a multivitamin injection. Each carton contains 10 vials (five of vial 1 and five of vial 2) that must be combined and further diluted in intravenous (IV) fluids prior to infusion (Figure 1). An organization reported that a pharmacy technician used two of the same vials, both labeled "vial 1," to prepare an infusion. Both vial 1 and vial 2 had the same National Drug Code (NDC 54643-5649-1), so the IV workflow management system (IVWMS) did not capture the error during barcode scanning. A pharmacist reviewed the compounded product and recognized the error prior to it leaving the sterile compounding room.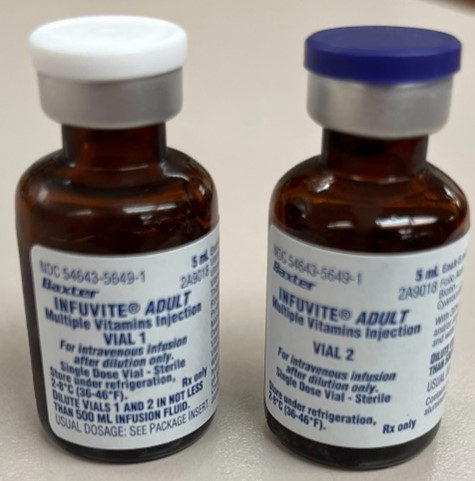 We reached out to the US Food and Drug Administration (FDA) and the manufacturer to notify them of this error and recommend assigning unique NDCs and barcodes to each vial (vial 1 and vial 2) for all Infuvite products. To help prevent this error from happening, review how your electronic health record (EHR), IVWMS, and master compounding formulation are set up for Infuvite, and ensure instructions specify the use of "vial 1" and "vial 2" to prepare the final product. Also, educate staff that the contents of the two vials are different and that one of each must be used. Consider adding signage where the vials are stored, or store one of each vial together, as an additional reminder.
Access this Free Resource
You must be logged in to view and download this document.