Incorporating REMS Program Requirements into Systems and Processes—Part II
Risk Evaluation and Mitigation Strategies (REMS) are required drug safety programs for certain medications that are designed to mitigate serious risks or errors. However, incorporating them into healthcare systems and processes is often complex and time-intensive. In Part I, we discussed the number of different REMS programs and databases, the wide variety of requirements, a scarcity of implementation tools, and lack of organizational resources that have made it difficult for organizations and frontline practitioners to meet the various program requirements. In Part II, we describe how one health system, AdventHealth, was able to successfully operationalize REMS program requirements throughout the medication-use process.
AdventHealth has 51 hospitals in nine states with over 9,000 licensed beds. In 2016, the health system's medication safety team identified the need for a robust REMS infrastructure within the electronic health record (EHR). The team consulted with key stakeholders (e.g., prescribers, pharmacists, nurses) to gather feedback prior to obtaining committee approvals to initiate the project. They emphasized that this initiative would help the health system comply with the REMS program requirements, improve workflow for practitioners, and ultimately benefit patient safety. In 2017, they launched the workflow in the health system's EHR, which was Cerner at the time. In 2022, they transitioned to Epic and built a similar infrastructure into their new EHR system. Below is an overview of how AdventHealth implemented REMS safeguards across the inpatient medication-use system.
Developing an EHR Build Evaluation Tool and Identifying Medications
The medication safety team started by researching the various elements to assure safe use (ETASU) for the current US Food and Drug Administration (FDA)-approved REMS programs. Based on these requirements, the team created an EHR build evaluation tool for inpatient use to ensure they were adhering to and documenting each element within the REMS program (Table 1 provides an example of how the tool is used with ambrisentan [LETAIRIS]). Then they compared the list of medications with FDA-approved REMS programs and reconciled this with AdventHealth's existing formulary, to capture the appropriate medications for inclusion in the EHR.
Creating Policies and Procedures
The team updated an overarching policy that outlined the scope, purpose, and requirements, indicating how the health system and practitioners should manage REMS. A work instruction document was created that outlined the expectations for pharmacists to appropriately document the REMS medication requirements in the EHR. They also developed medication-specific standard operating procedures (SOP) based on nuances specific to the hospital set-up and workflow that could not be appropriately accommodated or captured in the EHR. For example, a cloZAPine SOP details how pharmacists can create an account associated with the hospital on the cloZAPine REMS website to retrieve a patient's REMS dispense authorization. In addition, there is a specific pulmonary arterial hypertension (PAH) service line that includes SOPs outlining processes related to oral and inhaled medications, including REMS enrollment requirements and pharmacy dispensing standards.
Educating Practitioners
To ensure they were meeting the requirement to educate practitioners, the team established a formalized REMS education document (Table 2). This was used to guide the build of the educational modules in a learning management software for nurses and pharmacists to complete. For quality assurance, a report can be generated to confirm compliance. They also developed an email process for the Chief Medical Officer to notify physicians and other prescribers about medication-specific REMS education requirements. Realizing this process has the opportunity for improvement, they are currently exploring how to integrate this education requirement into their continuing medical education platform.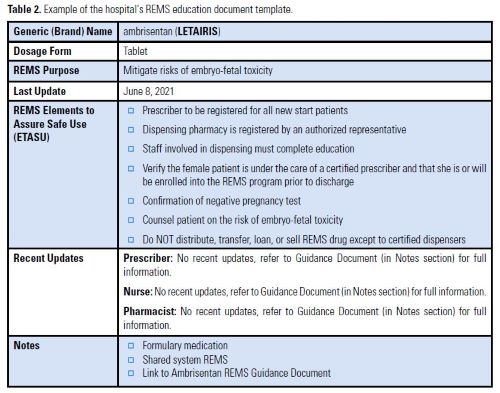 Updating the Formulary Process
After establishing the process for existing REMS medications, AdventHealth implemented a procedure for new formulary requests to indicate whether it is a REMS medication. When a REMS medication is approved for formulary addition, the post-pharmacy and therapeutics (P&T) workgroup utilizes a committee approval checklist to ensure all systems and processes have been taken into account (e.g., policy/procedure, education, appropriate storage, EHR medication builds, task and alert infrastructure, report generation). In addition, each site procuring the REMS medication designates a pharmacy lead as the authorized representative for program enrollment, as required.
Leveraging the EHR
The medication safety team worked with information technology, clinical documentation, and pharmacy teams to determine how the ETASU requirements could be built in a clear and accessible format to notify applicable practitioners (e.g., prescribers, pharmacists, nurses), and how to document the REMS-required information within the EHR. The team collaborated with end users to take into account their current workflow and incorporate requirements into the EHR infrastructure. This included utilizing a pharmacist-driven patient task list and documentation form to capture the specific ETASU; leveraging EHR functionality to only fire alerts for specific genders and age ranges (e.g., females of reproductive age); and embedding required laboratory tests into the prescriber alert to generate an order.
To ensure that all specific ETASU were met for each REMS medication, they built the following into the EHR:
Prescriber alerts: When a REMS medication is ordered, an alert will notify the prescriber that this is a REMS medication. The alert is specific to the medication and includes a list of related requirements (e.g., patient and/or prescriber enrollment, laboratory tests). For example, the ambrisentan alert states "ambrisentan is an FDA REMS medication with the following requirements for female patients: prescriber enrollment (not required if continuation of home medication), patient enrollment, and a negative pregnancy test." In addition, the pregnancy laboratory result (date/time) will display, or if no result, the system will embed a pregnancy test order and a direct link to the prescriber section of the REMS website. The information in the prescriber alert can also be found in the order instructions, which can be viewed by all practitioners. If the medication does not require patient or prescriber enrollment or laboratory tests, then an alert will not fire, but the order instructions will specify the REMS medication status, along with any other specific information of which practitioners should be aware of (e.g., can dispense a maximum of 15 doses).

Pharmacist notification and documentation: At AdventHealth, pharmacists are responsible for ensuring that patients and prescribers meet the ETASU requirements and that it is documented in the EHR. This electronic documentation can be easily retrieved for an internal or external audit. When a REMS medication requires documentation of patient and/or prescriber enrollment or laboratory tests, a clinical task is generated for the pharmacist to complete. The team created a template for pharmacists to document the required information as an intervention form. The template provides the specific requirements for each medication in a standard format so the pharmacist can verify if it is appropriate to dispense the medication. This may require the pharmacist to contact the REMS program to confirm prescriber and/or patient enrollment, obtain a REMS authorization number, or call the prescriber to order a laboratory test. Once they gather this information (e.g., laboratory test result), the pharmacist completes the intervention form and attests that all REMS requirements have been met for that patient. At this point, the medication order is ready for verification and dispensing. Of note, REMS contact centers are not available 24/7 for requirement confirmation. When patients are continued on their home REMS medication, and the contact center is unavailable, the pharmacist may verify the medication but leave the intervention open, so patient care is not delayed.                

Nurse task for patient education: Since nurses already had a designated area to document patient education in the EHR, the team advocated for a REMS education section. For any REMS medication with required patient education, a nurse education task was created that provides a link to the REMS website. The process allows the nurse to print the patient handout (e.g., medication guide), educate the patient, and complete the education documentation in the EHR prior to administering the first dose. This information is retrievable for auditing purposes.
Quality Assurance
As with any regulatory requirement, a proactive plan to demonstrate compliance is advised. For example, AdventHealth electronically captures documentation (e.g., EHR documentation by practitioners, completed education modules) for the various REMS elements. They also assign their pharmacy residents a REMS medication for completion of a medication use evaluation (MUE) each year. When a drug manufacturer or contracted third-party audits AdventHealth's REMS compliance, AdventHealth can readily retrieve and provide the requested REMS documentation.
Sustainment Plan 
The medication safety team at AdventHealth has a proactive plan to capture REMS program changes (e.g., medication addition, deletion, modification) that includes biannual staff education, an annual policy review, and assigning a medication safety lead as the authorized representative to monitor REMS@FDA updates (to receive these updates via email, go to: www.ismp.org/ext/1174). Once the team identifies a change, they initiate the process described earlier, starting with completing or modifying the EHR medication build evaluation tool (Table 1). They also update the educational modules (Table 2) and reassign them to the practitioners to review the program changes. When onboarding new hires, these modules are integrated into the orientation program to ensure completion and compliance. To capture changes in pharmacy leadership, they also have a checklist incorporated into the orientation process to update the assigned REMS program authorized representative, if needed.
Next Steps and Additional Considerations
As mentioned, AdventHealth is comprised of 51 hospitals, and 130 clinics and other outpatient facilities across nine states. While the inpatient medication formulary has been the initial focus for the REMS medication builds and process, they plan to expand this project to the outpatient areas next. Another item for consideration is how organizations should handle non-formulary REMS medications. Currently, AdventHealth does not include these in the above REMS process. However, ideally, all REMS medications would be accounted for to ensure the same level of safety when these medications are prescribed, procured, and administered. Similarly, organizations should consider how they will screen orders for patients to use REMS medications brought from home, to assess if the medication has requirements that must be acted upon.
Conclusion
AdventHealth has made an upfront investment by operationalizing the REMS program requirements into various systems and processes including formulary management, EHR builds, policies/procedures, and educational modules. Although additional steps are planned, the medication safety team feels this structure and level of reliability has made a difference for their health system, practitioners, and patients. We encourage organizations to learn from this model when implementing REMS program requirements in your systems and processes.
We thank Jaclyn Jeffries, PharmD, CPh, Executive Director, Safety; Stacy L. Carson, PharmD, BCPS, FISMP, Medication Safety Officer; and Heather Ellis, PharmD, Medication Safety Coordinator, for sharing a systematic review of their REMS program processes and procedures, as well as helping to write this article. Email ISMP ([email protected]) with questions for AdventHealth.
Suggested citation:
Institute for Safe Medication Practices (ISMP). Incorporating REMS program requirements into systems and processes – Part II. ISMP Medication Safety Alert! Acute Care. 2023;28(15):1-5.
Access this Free Resource
You must be logged in to view and download this document.