Hazard Alert: Demonstration IV Solutions Administered to Patients
The US Food and Drug Administration (FDA) again alerted healthcare professionals not to use Wallcur, LLC, simulated intravenous (IV) products in human or animal patients. These products are for training purposes only and should never be administered to humans or animals. Educators often utilize training products for simulations with students and want these items to look like the real solutions. However, there have been serious adverse events associated with misuse.
We learned via FDA's MedWatch that more than 40 patients actually received these solutions and developed chills and/or sepsis; 1 patient died. One of the products, Practi-0.9% Sodium Chloride (Figure 1) 100 mL, contains distilled water, not sterile saline, so hemolysis also might be an issue.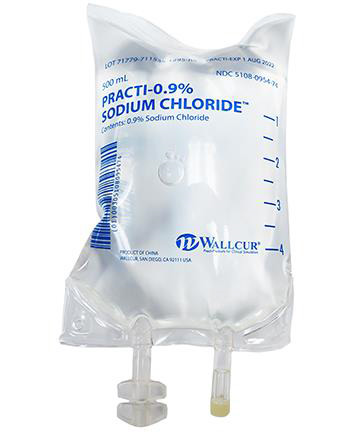 These events may be related in part to IV saline product shortages from B. Braun, Hospira, and Baxter. Purchasers looking for replacement supplies may have confused these training products with the real thing, and then ordered them through their distributors. Although distributor listings state that these are training products, purchasers may not recognize this. The solutions may have then been misidentified upon arrival at the healthcare facility. Subsequently, internal distribution took place, and the fact that these were training products must have been overlooked. Since staff may be having trouble getting their usual IV products, they may not be suspicious of the unusual labeling. Although each product is labeled "for clinical simulation," this may not always be recognized. (Also, "for clinical simulation" looks very close to "for clinical situations.") 
In a media release, Wallcur said it has recalled current products, including Practi-0.9% sodium chloride IV bags supplied in 50 mL, 250 mL, 500 mL, and 1,000 mL sizes, and the Practi-0.9% sodium chloride 100 mL IV solution bag with sterile distilled water. The extent of distribution of these products is not fully known, but inpatient and outpatient locations have received supplies. The company told us that about 90% of the distribution of training products is via independent medical distributors, including some drug wholesalers. Supplies can also be purchased through the company's website, in which case they interact with the customer to assure use is for training purposes.
Wallcur is also working with FDA to identify ways to label these products to state more clearly that they are not to be used in humans or animals. The company has also notified its distributors and asked for their follow up. Please work with hospital educators, medical and nursing school affiliates, ambulatory surgical centers, and other inpatient and outpatient facilities in your health system to assure all are aware of this situation and taking action where appropriate.
If you suspect that any Wallcur training IV products (or training products from another manufacturer, such as Pocket Nurse Demo Dose) may have been administered to a patient, whether or not harm has resulted, please report it to FDA's MedWatch Adverse Event Reporting here. FDA will continue to investigate and monitor this issue.