ENFit Update for December 17, 2015
The Global Enteral Device Supplier Association (GEDSA) continues to work with member companies and others to validate the safety of newly designed "low-dose" (small volume) ENFit tip syringes mentioned in our November 19, 2015 newsletter. These new syringes are incompatible with Luer connectors and can be used to administer liquid medicines either orally or via ENFit feeding tube connectors. The syringe is intended to address concerns about volume remaining in the syringe dead space when administering liquid medications. This potential accuracy problem was noted in our April 9 and July 30, 2015 issues.
Compared to parenteral syringes, ENFit is a reverse gender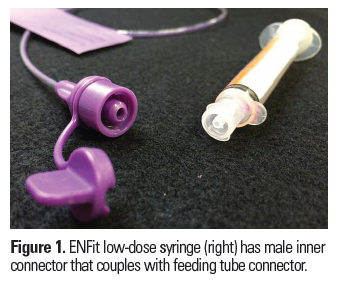 system with the feeding tube connector now male and the syringe connector now female. With the original ENFit syringes, the female syringe tip held 0.15 to 0.2 mL of dead space, which could cause underdosing when 2 mL or less are given orally. The new ENFit low-dose syringe has a male design feature within the ENFit female connector (syringe tip) that fits inside the fluid lumen of the ENFit male connector on the feeding tube (Figure 1) to prevent volume in the dead space. The new syringe fits ENFit straws and bottle adapters, and can also be used to withdraw medicine from a unit dose cup (a bit messy with viscous medicines).
Production versions of the new low-dose syringes are now being tested, commencing with pharmacists at last week's American Society of Health-System Pharmacists (ASHP) Midyear Clinical Meeting, and with nurses in the US and abroad. Independent performance testing as well as misconnection analysis is also underway. ISMP is planning to participate in the testing to determine if a dose drawn from a cup, ENFit straw, or bottle adapter and then given orally or via an ENFit feeding tube is accurate. Observations will also be made to determine whether any excess fluid enters the feeding tube from the female part of the syringe if liquid is drawn from a cup. We hope to report findings in early 2016.
Patients who have permanent or long-term feeding tubes and use blenderized foods are also concerned that their blenderized feeds could be compromised by a reduced flow rate or clogging due to the small orifice of ENFit connectors. According to GEDSA, testing has been conducted to confirm that flow rates will be consistent between the current enteral system and the ENFit system with up to a size 20 French feeding tubes. GEDSA companies have engaged with the Oley Foundation and some patients they represent regarding this issue and are seeking ways to address their concerns. 
GEDSA says that companies are on target for an ENFit syringe launch within the first 6 months of 2016. However, not all manufacturers have committed at this point. In particular, BD has left GEDSA altogether and says the company is monitoring the situation. The company said it would have preferred that the final ENFit syringe design revert back to male ENFit tipped syringes and female connectors on the feeding tubes. This, they say would have obviated the over - under does issue making it a safer solution for patients, while remaining ISO compliant. Another manufacturer, Medtronic, has delayed introduction of the ENFit products pending completion of GEDSA sponsored usability and performance testing. Enteral feeding tube manufacturers are also monitoring the situation and gearing up for production. Some tube manufacturers may provide for a transition period where an ENFit connection is available along with the current syringe port. Still, despite the lack of full industry commitment and delays, GEDSA is telling us there will be enough supply for hospitals to move forward, although implementation could extend beyond 6 months given the many unanswered questions.