Do not use Dr. Reddy's prefilled glass naloxone syringes with a Clave/MicroClave connector
A hospital reported several instances in which emergency department (ED) nurses experienced difficulty administering Dr. Reddy's Laboratories' prefilled naloxone syringes (NDC 43598-750-11) intravenously (IV). After connecting the prefilled syringe to a patient's IV line, which had a MicroClave (ICU Medical) needlefree syringe connector (Figure 1) attached, nurses had trouble pushing the plunger and administering an IV push dose. This forced the nurses to either use a new naloxone syringe and set up, or remove the syringe plunger and manually draw up the solution for injection using a different syringe. Not only does this delay lifesaving treatment, but the latter practice could be unsafe from an infection control perspective and because it sometimes results in unlabeled syringes.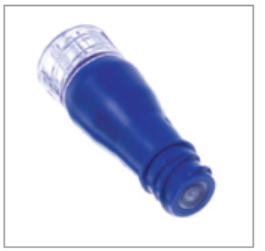 Dr. Reddy's glass naloxone syringe is relatively new to the market, first approved last year. These syringes had recently been purchased due to a backorder with the hospital's usual naloxone supply from International Medication Systems (IMS), an Amphastar Pharmaceuticals company, which was provided with a Luer-Jet glass vial and plastic injector (Figure 2). The hospital had not experienced a problem with the Amphastar/IMS product.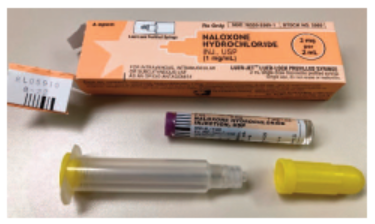 A pharmacist investigated the problem, spoke to the ED nurses, and recreated the problem using an ICU Medical pressure infusion extension set with a Clave/MicroClave connector. The line flushed normally with saline, but after connecting a Dr. Reddy's naloxone syringe, the pharmacist was unable to push the solution through, just as the nurses had reported.
Glass syringes used with MicroClave needlefree connectors have presented problems in the past. In a 2011 Safety Communication about adenosine and amiodarone in glass syringes, the US Food and Drug Administration (FDA) noted that the action of inserting the glass syringe tip can cause the pin in the MicroClave access system to break off in the syringe tip, preventing delivery of the medication. There have been similar international reports involving EPINEPHrine injection, and the package insert for at least one product in a glass syringe has identified an incompatibility problem with multiple needlefree connectors. In the recently reported events, a piece of plastic had lodged inside the Dr. Reddy's naloxone syringe nozzle (Figure 3), effectively blocking the flow of medication. This compromised the MicroClave port, which increased the risk of IV line contamination and infection.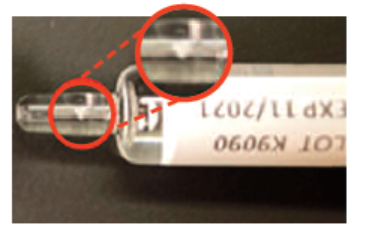 The reporting hospital and ISMP notified Dr. Reddy's about this problem. The company did not provide either of us with a satisfactory response, only mentioning that the problem occurred because the needle contained in the syringe carton was not used (of course not, since a needlefree IV injection was intended). In the US, BD, B. Braun, and Vygon all market similar needlefree connector products that have internal cannulas or pins, but we are not aware of similar reports of problems during administration. To address glass syringe incompatibility, ICU Medical has developed a syringe adapter, CS-25, which enables the use of glass syringes with needlefree connectors when prefilled plastic syringes are not available. However, it is unlikely that these will be routinely used by all who administer an IV injection. If used, these should be provided in a kit along with the prefilled syringe.
The hospital will be using other naloxone products or, if using the Dr. Reddy's syringe, will administer the medication intramuscularly or via the nasal route using an atomizer, not IV through a MicroClave connector. If incompatible prefilled glass syringes remain on the market, FDA and device/drug manufacturers need to clearly communicate this potential problem, and perhaps include prominent warnings on the packaging itself.
Access this Free Resource
You must be logged in to view and download this document.