This chart presents a guide to management of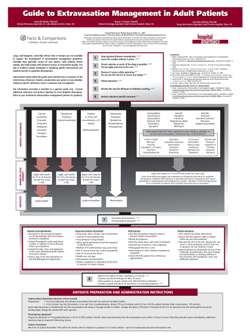 extravasation in adult patients. Specific substances covered include DOBUTamine, DOPamine, CISplatin, potassium, calcium, vindesine and more.
Wall Charts are shipped by a 3rd party supplier. Wall Charts are shipped on Thursdays only. Please contact [email protected] with any questions.
Wall Chart - Guide to Extravasation Management
Updated 2011
ISNB# 0781763967
Dimensions: 22 1/2" w X 32" h
Access this Free Resource
You must be logged in to view and download this document.
More Books, Posters, and DVDs
Award-winning DVD introduces viewers to "Just Culture".
Commonly referred to as the "Do Not Crush" list, healthcare professionals are alerted about medications that should not be crushed.
Unlabeled syringes, basins, bowls, and cups can be dangerous.