This is an excellent resource for standardization of IV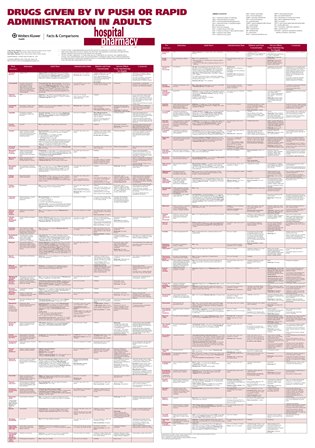 push rates in your institution. Also use it for easy to access, evidence based, information on IV administration rates for IV push. Includes the drug name/indication, adult dose, infusion rate, dilution/final concentrations, and the adverse effects from administering too rapidly.
Wall Charts are shipped by a 3rd party supplier. Wall Charts are shipped on Thursdays only. Please contact [email protected] with any questions.
Wall Chart - Drugs Given by IV Push or Rapid Administration in Adults
Published August 2013
ISNB# 978-1-57439-302-6
Dimensions: 32" h x 22.5" w
Access this Free Resource
You must be logged in to view and download this document.
More Books, Posters, and DVDs
Award-winning DVD introduces viewers to "Just Culture".
Healthcare practitioners should use the exact metric weight when writing drug orders. This poster discourages prescribing only by volume or dosage limit, which can be ambiguous, and provides a correct sample order.
It is uncommon to need more than 2 or 3 tablets, capsules, vials, ampules, etc. to prepare a single dose of medication. This poster alerts healthcare professionals to this fact and urges verifying with a pharmacist medication doses that seem to require more than 2 or 3 of anything.