This is an excellent resource for standardization of IV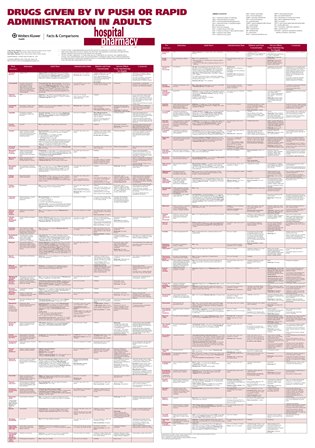 push rates in your institution. Also use it for easy to access, evidence based, information on IV administration rates for IV push. Includes the drug name/indication, adult dose, infusion rate, dilution/final concentrations, and the adverse effects from administering too rapidly.
Wall Chart - Drugs Given by IV Push or Rapid Adminstration in Adults
Published August 2007
ISNB# 978-1-57439-302-6
Dimensions: 32" h x 22.5" w
Access this Free Resource
More Books, Posters, and DVDs
Beyond Blame is a must-see for all who are responsible for patient care. The award-winning DVD introduces viewers to "Just Culture," a way of thinking that fixes problems rather than assigning fault.
This poster provides examples of medication orders with ambiguous or difficult-to-read abbreviations as well as how they should be written out.
When drug names are abbreviated, they may be misunderstood, resulting in patient harm or time wasted clarifying ambiguous orders. This poster presents examples of orders where the intended drug/dose was misunderstood and counsels healthcare practitioners to always spell out drug names.