This chart includes look-alike and sound-alike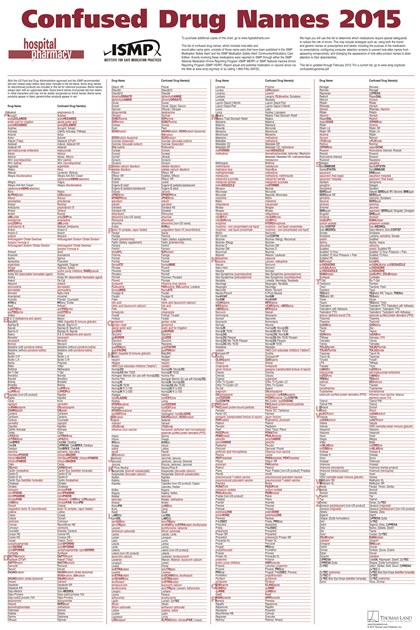 name pairs. Use this resource to help determine which medications require safeguards to reduce the risk of errors. Both the US Food and Drug Administration-approved and the ISMP-recommended tall-man (mixed case) letters have been included.
Wall Chart - Confused Drug Names
Updated 2015
Dimensions: 21 1/2 w" X 33" h
Access this Free Resource
More Books, Posters, and DVDs
Beyond Blame is a must-see for all who are responsible for patient care. The award-winning DVD introduces viewers to "Just Culture," a way of thinking that fixes problems rather than assigning fault.
This poster presents sample drug orders with "q.d." and "q.i.d." that show how those abbreviations can be confused, and emphasizes that they be spelled out for greater clarity.
It is essential that healthcare practitioners place a zero in front of decimal points in drug dosages to help prevent ten-fold overdoses. This poster emphasizes that without the zero, the decimal point is often overlooked, and provides an example.