This chart defines the stability and compatibility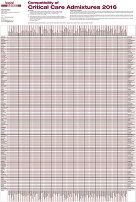 of medications that are routinely present in critical care, and intensive care settings.
Wall Charts are shipped by a 3rd party supplier. Wall Charts are shipped on Thursdays only. Please contact [email protected] with any questions.
Wall Chart - Compatibility of Critical Care Admixtures
Published September 2005, Updated 2016
ISNB# 0781793629
Dimensions: 36" h x 24" w
Access this Free Resource
You must be logged in to view and download this document.
More Books, Posters, and DVDs
Award-winning DVD introduces viewers to "Just Culture".
It is uncommon to need more than 2 or 3 tablets, capsules, vials, ampules, etc. to prepare a single dose of medication. This poster alerts healthcare professionals to this fact and urges verifying with a pharmacist medication doses that seem to require more than 2 or 3 of anything.
Quick reference guide to several of ISMP's lists and resources.