Urgent! Health Systems Need to Plan Now for Upcoming Changes in Enteral Feeding Device Connectors
Problem: Are you ready for the design changes coming soon for enteral feeding device connectors? While ISMP and other organizations and agencies have repeatedly publicized the upcoming global changes with all enteral device connectors, we are not confident that healthcare organizations are adequately preparing for such a significant change. The new ISO enteral connector design will no longer be Luer-compatible and will require major changes in enteral nutrition practices, policies, procedures, and processes that need planning. These new connectors will impact nurses, pharmacists, physicians, dieticians, caregivers, and patients across the continuum of care. We are concerned that healthcare organizations will be ill-prepared when the new enteral connectors begin to be systematically introduced later this year and into 2015. Our concern is heightened by several unresolved process dilemmas that the change will undoubtedly trigger, particularly related to preparation, dispensing, and administration of enteral medications.         
Enteral device connector changes
In the first phase of changes, which have been in place since 2012, enteral feeding administration sets with the new enteral-only fitting at the proximal end have been introduced. This connector fits into the feeding substance container (Figure 1).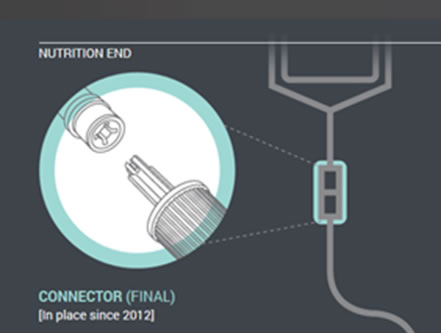 In the next phase, which will begin by the fall of 2014, manufacturers will distribute administration sets with the new enteral-only connector at the other end that connects to the feeding tube (PEG-tube, G-tube, etc.). The new enteral-only connector has been named ENFit to differentiate it from a Luer connector. Because new feeding tubes with the ENFit connector will not be available until the second quarter of 2015, a temporary transition adapter will be attached to the administration set (Figure 2).

The transition adapter will be available for a specified time to assure that patients with older feeding tubes will not need an immediate replacement with a newer feeding tube. But eventually, the manufacturers of feeding administration sets will remove the transition adapter from the package. Early in 2015, a new enteral syringe with the ENFit connector will be available (Figure 3). Once new enteral feeding tubes are in place, new enteral syringes will be required to flush or administer enteral liquid medications via a feeding tube. An oral or Luer syringe will not connect to the port.

Unresolved process dilemmas
Once enteral syringes can only be used to administer liquid medications via a feeding tube, unit doses of liquid medications can no longer be prepared or administered using an oral syringe. While ISMP strongly recommends dispensing all medications in patient-specific doses, use of the new enteral syringes for this purpose raises two concerns:
No bottle adapters. Currently, there are no bottle adapters compatible with the ENFit connector that can be used with enteral syringes to easily draw up unit doses of liquid medications from bulk containers of the medicine. Screw on, snap in, and Christmas Tree-type adapters are available for use with oral syringes, but not for the new ENFit syringes. Industry has been made aware of the critical need for adapters. Although we have not heard back about plans to produce them, we are hopeful that details will soon be provided.  
No caps. There is no cap currently designed for use with the new enteral syringes, making transport of pharmacy-filled syringes to patient care units problematic. Again, industry has been made aware of the need for syringe caps. Clearly, both caps and bottle adapters are needed to dispense liquid medicines in ENFit syringes.
Safe Practice Recommendations
Healthcare organizations need to plan ahead to ease the challenge of transitioning to the new enteral feeding device connectors and associated drug delivery. Awareness alone will not be enough to prepare organizations for the transition. Consider the following recommendations.
Form an implementation team. Form an interdisciplinary team that reports to the pharmacy and therapeutics and/or clinical safety committees to assess the existing systems, processes, and protocols that may need to be changed during and after transition to the new enteral connectors. The implementation team should specifically target:
Communication. Reassess/improve/create a plan for communication between patient care units and the pharmacy when liquid medications are required for patients and how they will be administered (e.g., oral or enteral).
Dispensing. Reassess how enteral liquid medications will be dispensed from the pharmacy. ISMP strongly recommends dispensing patient-specific unit doses in enteral syringes and has been in contact with manufacturers about the need for enteral syringe caps and bottle adapters for this purpose. While we are reasonably optimistic about the availability of these devices once enteral syringes are on the market, organizations should determine an alternative process for safely dispensing patient-specific doses in labeled, bar-coded, unit-dose cups or vials. 
Transitioning. Establish a transition plan in cooperation with hospital purchasers and enteral device suppliers.
Stay updated. Assign an individual or subgroup of the implementation team to stay updated and share transition updates with the full team. Maintain regular contact with:
Stay Connected. The Global Enteral Device Supplier Association (GEDSA), the coalition formed to help introduce new medical device connectors, maintains a Stay Connected website to keep healthcare providers up-to-date. Email notifications are available when new information has been posted.
ISMP.  We will provide regular updates impacting enteral connector transition (e.g., availability of caps, bottle adapters, educational programs)  at www.ismp.org.
Purchasers/suppliers. Stay in the loop to receive notifications and other information provided by purchasers and suppliers as the transition moves forward.
Reinforce purpose of change. Continue to make staff aware of the transition to new enteral connectors. Remind them that the initiative will enhance patient safety by reducing the risk of harmful tubing/catheter misconnections (e.g., enteral feeding injected IV). 
Train staff. Train clinicians and materials/inventory management staff about the impending changes and any associated revised policies, procedures, or processes.