Updated Guidance Needed for Longstanding Large Volume Parenteral (LVP) Labeling and Packaging Problems
Problem: ISMP has received ongoing reports of confusion and errors associated with the labeling and packaging of large volume parenterals (LVPs). LVPs are premixed solutions of more than 100 mL that are provided in ready-to-infuse dosage forms. These premixed solutions reduce the potential for compounding errors and provide a sterile end product that is labeled with the ingredients and a barcode. However, errors associated with the labeling and packaging of LVPs have occurred for decades. Concerns that frequently arise in the error reports submitted to ISMP include the similar appearance of containers, problems with barcodes, and label clutter.
In January 2007, the US Food and Drug Administration (FDA) held a 1-day public meeting with representatives from ISMP and USP to explore how the labels on intravenous (IV) products could be designed to minimize medication errors, including the placement, style, and type of information required on LVP labels. The findings from that meeting led to the publication of the April 2013 FDA Draft Guidance for Industry, Safety Considerations for Container Labels and Carton Labeling Design to Minimize Medication Errors. This Draft Guidance, which has not been finalized yet, includes a section on labels for LVPs that describes information FDA considers essential versus clutter on the LVP labels (lines 658-708). Nevertheless, the labels on LVPs continue to contribute to errors, which involve products from most of the major manufacturers in the US, including B. Braun, Baxter, Hospira, Fresenius Kabi, and ICU Medical. Most of the reports submitted to ISMP involve soft bag LVPs, which comprise a majority of the US market (compared to glass or plastic bottle LVPs).
Similar Appearance of Containers
The most frequent contributing factor associated with LVP error reports received by ISMP is the inability to distinguish different products, including different strengths of drug products, due to look-alike packaging and labeling. Most LVPs are available in an overwrap which can make the labels even more difficult to read and distinguish from each other.
Differing strengths. In the past 5 years, ISMP has received numerous reports of look-alike LVPs containing different strengths of the same drug. For example, both Hospira's and Baxter's look-alike bags of DOBUTamine 1,000 mg/250 mL have been repeatedly mixed up with the 250 mg/250 mL strength. Also, both manufacturers' DOPamine 800 mg/250 mL infusions have been mixed up with look-alike containers of 200 mg/250 mL (Baxter) and 400 mg/250 mL (Hospira, Figure 1) strengths. All of these products are packaged in foil or opaque overwraps to protect the drugs from light and prevent evaporation of the solution, adding to their similar appearance. Strength mix-ups of these inotropic medications could have an adverse clinical impact on the patient's blood pressure, heart rate, and cardiac output.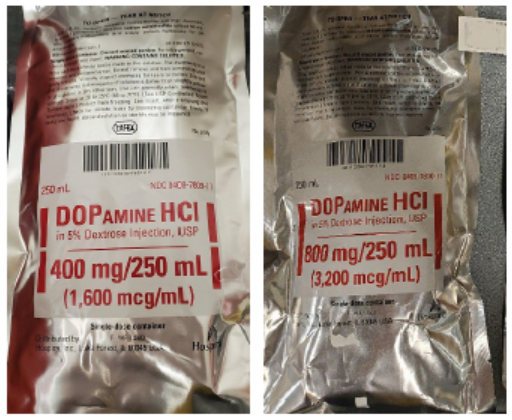 Various strengths of heparin have also been confused due to look-alike labeling and packaging, including B. Braun's heparin 25,000 units/500 mL and 20,000 units/500 mL, as well as heparin 1,000 units/500 mL (intended for arterial lines) and 25,000 units/500 mL. Mix-ups in heparin concentrations could result in ineffective anticoagulation from subtherapeutic doses or bleeding from overdoses.
Differing base solutions. The design of LVP labels and look-alike similarities can make it difficult to distinguish the base solutions used for similar products. For example, we recently received reports—one at the end of 2020 and one early in 2021—involving mix-ups between Baxter's premixed 1-liter bags containing potassium chloride in differing base solutions. These products are marketed in several strengths (10 mEq/L, 20 mEq/L, 30 mEq/L, 40 mEq/L) and in several base solutions (5% dextrose in water [D5W], 0.45% sodium chloride, 0.9% sodium chloride, D5W and lactated ringer's, D5W and 0.2% sodium chloride). All of these products look similar, with the strength and potassium chloride in large red letters at the top of the bag and the base solution listed in much smaller red print below the drug name (Figure 2), increasing the risk, for example, that 0.45% sodium chloride with 20 mEq of potassium chloride is inadvertently administered instead of D5W/0.45% sodium chloride with 20 mEq of potassium chloride. The similar-looking bags could easily be stored near each other since they all contain the same amount of potassium chloride per liter. The difference in base solutions may seem insignificant but could impact a variety of patients such as those with electrolyte imbalances and specific fluid requirements or restrictions.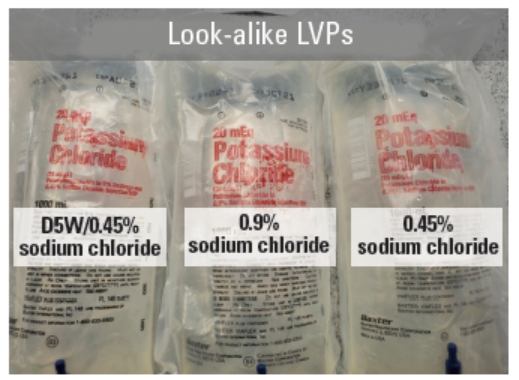 Healthcare practitioners have also commented on the red print used for labeling these solutions given that the color "red" is the traditional color of "warning" and "danger." They argue that, because one of the most common infusions administered today is labeled using red print, practitioners have become desensitized and are less likely to notice the red print intended to draw attention to a bag of sterile water for injection, for example.    
Differing products. ISMP has also received dozens of error reports in the past 5 years associated with look-alike LVP bags containing different drugs. Mix-ups that have caused patient harm or could result in serious harm include confusion between B. Braun's look-alike 500 mL bags of heparin and lidocaine, heparin and HESPAN (hetastarch), heparin and sterile water for injection, and heparin and 3% sodium chloride (Figure 3).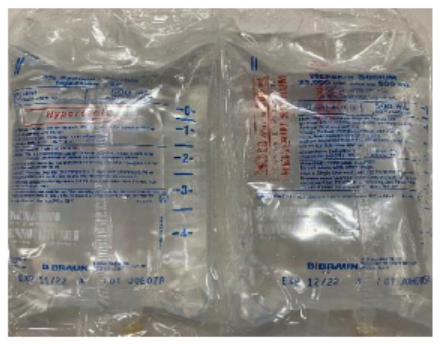 Problems with Barcodes
ISMP has received numerous reports about the inability to scan the manufacturer's barcode on LVPs. The most frequent concern is difficulty scanning a white barcode printed on a clear LVP bag, which has been reported with Baxter, B. Braun, Hospira, and Fresenius Kabi (Figure 4) LVPs. Reporters note that the white barcodes are especially difficult to scan when the clear soft plastic infusion bags are upright, as hanging on an IV pole, and are easier to scan when held against a dark background, such as laying the bag on a dark table. Occasionally, we also hear about scanning difficulties with black barcodes on clear bags due to barcode quality issues, or scanning difficulties associated with the position of the barcode on the bag.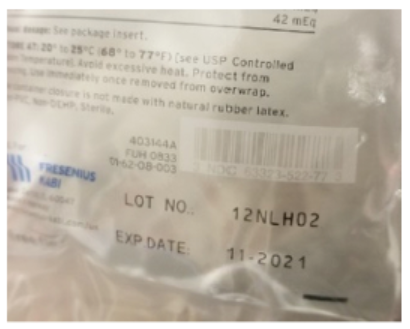 Another problem is the absence of a barcode on the overwrap itself. As above, most LVPs are packaged in an overwrap to prevent evaporation and to maintain sterility and stability and are dispensed to patient care units in an overwrap. However, while manufacturers include a barcode on the actual LVP container, they may not print a barcode on the overwrap. Without a barcode on the overwrap, pharmacy staff may not be able to scan the barcode to verify the drug prior to dispensing or stocking the LVP. Scanning the barcode through a clear overwrap may be possible with some LVPs, but it is nearly impossible with some B. Braun LVPs in clear overwraps if the overwrap seam runs through the barcode (an issue that was corrected with some LVPs but not with others).
The printing of dual barcodes on the actual LVP container—one to aid the manufacturing process and the other for healthcare providers to scan—is another problem, one that appears to be unique to B. Braun LVPs. Healthcare providers have scanned the wrong barcode without success, leading to omissions and overrides of the scanning technology.
Label Clutter
The large amount of information that typically appears on the LVP label not only clutters the label but can also distract from the most important information—the product name, main ingredients, and the strength. As an example see Figure 5, which depicts a label for a plain solution containing 0.9% sodium chloride from ICU Medical. Most of the information below the product name and strength makes the label look crowded. This label, which is typical for LVPs, contains extra information that the 2013 FDA Draft Guidance for Industry (lines 685-708) lists as "label clutter" and should NOT be included:
A statement that the product is "non-pyrogenic"

A statement about the pH

A statement to "use only if solution is clear and container is undamaged"

A statement about "series connection"

Manufacturer's address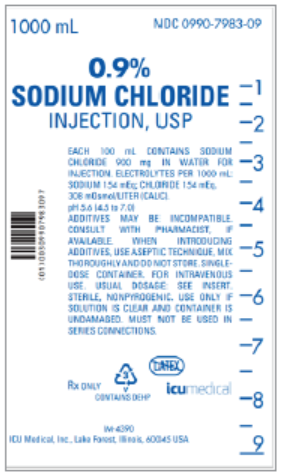 Although some of the following statements may have been deemed essential for the container label per the 2013 FDA Draft Guidance for Industry (lines 663-683), ISMP questions the importance of including these on LVP labels, as they contribute to label clutter: 
"Each 100 mL contains…." (this statement has also been misinterpreted as the total amount in an LVP when the LPV contains more than 100 mL)

A statement to "see prescribing information" (or insert)

A statement, "additive compatibility, consult pharmacist" or "additives may be incompatible, consult with a pharmacist, if available"

A statement, "when introducing additives, use aseptic technique, mix thoroughly, and do not store"
Additionally, the format and layout of the information below the product name and strength often makes it hard to read. For example, the information is often presented in all uppercase letters, which is more difficult to read than lowercase or mixed case words, and the information may not be organized into relevant sections. And once the LVP is dispensed, the information in small print below the product name and strength is often covered with a pharmacy/patient label, rendering it unreadable.
Safe Practice Recommendations: ISMP has once again reached out to FDA and several LVP companies in the US to discuss these ongoing risks and errors and to recommend label improvements to better distinguish LVPs and improve the readability of their labels. These companies agreed to explore the much-needed label improvements to promote medication safety. ISMP is also calling upon FDA to update and finalize its guidance to manufacturers regarding the labels for LVPs, taking into consideration the ongoing nature of reported errors associated with look-alike containers, problems with barcodes, and label clutter. ISMP encourages collaboration among FDA, USP, LVP manufacturers, ISMP, and other safety experts to expand and update the current regulatory guidance for the labeling of LVPs. Specifically, we recommend the following: 
Label redesign, including style, font type, and the limited use of color, to better distinguish between different products, different base solutions, and different strengths
Label placement on both the front and back of LVPs containing ISMP-designated high-alert medications, with the text not overlapping other text and readable in both the upright and inverted positions, leaving space below the product name and strength for a pharmacy/patient label
Reconsideration of the information deemed "essential" for the container label, which could appear instead in the prescribing information, to further reduce label clutter (this will likely require difficult regulatory changes)
Requiring segmentation of any "essential" information required on the label below the product name and strength into relevant categories (e.g., storage, route of administration)
Requiring the placement of a two-dimensional (2D) barcode (using dark black lines on an opaque white background for all barcodes) on both sides of the actual LVP container as well as the overwrap, unless at least one barcode on the actual LVP is machine readable through a clear overwrap, without a crimp from the overwrap running through the barcode (FDA currently requires a barcode on the overwrap [see question/answer #14]; however, this requirement is not always followed)
Meanwhile, healthcare practitioners can reduce the risk of errors by identifying look-alike LVPs prone to mix-ups, separating their storage, clearly labeling storage locations, and affixing unique labels to the few products with the most potentially serious outcomes to help identify and distinguish the products, base solutions, and/or strengths. A pharmacy and therapeutics committee should consider whether all sizes and strengths of LVPs are necessary, and then limit the variety of LVPs by removing those with limited use or value from certain storage locations or from the hospital inventory.
Although it may be challenging in some instances, consistent use of barcode scanning will help minimize the potential for errors with these products. Practitioners should be reminded that the barcode on the actual LVP, not a barcode on the overwrap, should be scanned immediately prior to administration. Scanning the barcode on the overwrap would be similar to scanning a carton containing a vial of medication, instead of the actual medication vial. Consider monitoring scanning practices to ensure practitioners are adhering to this important safety measure. 
Access this Free Resource
You must be logged in to view and download this document.