Unreadable Barcodes and Multiple Barcodes on Packages Can Lead to Errors
ISMP has recently received several reports about barcode scanning difficulties with products that could previously be scanned without problems.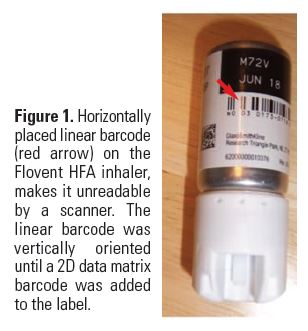 One issue is that the linear barcode on the FLOVENT HFA (fluticasone) inhaler was recently repositioned in a horizontal orientation around the circumference of the canister (Figure 1).  The same is true with the barcode on Teva's enoxaparin injection, which is located horizontally around the barrel of the syringe (Figure 2). These horizontally oriented barcodes may not be readable if they no longer meet scanner requirements for reading barcodes at specific focal distances, angles, or orientations. The bending of barcodes around a curved surface affects how light reflects off them, and, if it is distorted in such a way, scanners cannot capture the entire barcode. As reports are received, ISMP alerts product manufacturers and the US Food and Drug Administration (FDA) to urge them to consider barcode readability when designing and reviewing product labels.
These and other barcode-related problems prompted us to further examine barcodes and how they are currently being used on drug containers. 
Types of barcodes and scanners
There are various types of barcodes based on the symbologies they use for encoding data that a scanner can decode (Table 1).1 A linear (1 dimensional [1D]) barcode typically encodes the national drug code (NDC) number. A 2D (two dimensional) data matrix barcode encodes more information than a linear barcode, and includes the NDC, lot number, and expiration date. Although most scanners can read both linear and 2D data matrix barcodes, some may require enabling of certain barcode symbology so they can extract 2D data matrix barcode information.
Other barcodes you may see on drug containers include a Quick Response (QR) code, which is a type of 2D code used for accessing product information. However, this barcode is not used for automated product identification purposes. Over-the-counter (OTC) products must contain a Universal Product Code (UPC), which is a type of linear barcode that scanners and some QR code readers can interpret. Two types of scanners are available: light-based readers for linear barcodes, and image-type readers, which can read both linear and 2D barcodes.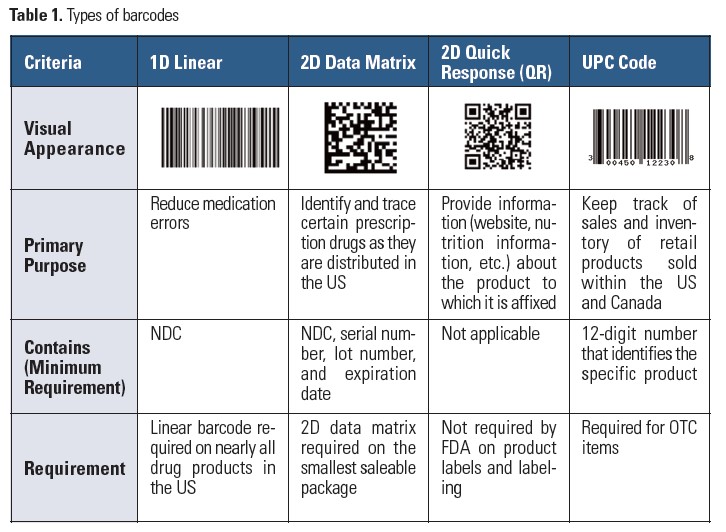 Barcode label requirements
According to the 2004 Title 21 Code of Federal Regulations (CFR), section 201.25, barcode label requirements, most prescription medications marketed in the US must contain a linear barcode that encodes the appropriate NDC number on the product label. Exempted are certain drugs such as low density polyethylene ampuls (e.g., albuterol, isoproterenol, and others).
On some product labels, you may also find a 2D data matrix barcode pursuant to the Drug Supply Chain Security Act (DSCSA). The DSCSA, enacted in 2013, requires a 2D data matrix barcode on the smallest container intended for individual sale to a dispenser, but manufacturers have until November 27, 2017, to comply. However, a linear barcode will still be required. Although the smallest saleable container is not usually a unit-dose package, some unit-dose products used at the bedside are being encoded with both linear and 2D data matrix barcodes.
Barcode repositioning and two barcodes on labels causing scanning difficulties
The horizontal repositioning of linear barcodes, as mentioned earlier with the Flovent HFA inhaler, are likely due to the addition of a 2D data matrix barcode to some product labels. The presence of two barcodes can also lead to confusion regarding which barcode should be scanned.2 The hospital that reported scanning difficulty with the Flovent HFA inhaler also noted that nurses were forced to scan the 2D data matrix barcode on the inhaler (Figure 1), because the horizontal linear barcode was unreadable. However, the 2D data matrix barcode was not associated with the product in their database, and scanning the 2D barcode resulted in various incorrect product matches.
Conclusions
The presence of two barcodes on product labels may cause confusion, so alert all practitioners to the new DSCSA requirement to include a 2D data matrix barcode on certain product labels (as of November 27, 2017), in addition to the linear barcode to which all are accustomed. Be sure practitioners understand which barcode to scan for verification during the drug preparation, dispensing, and administration processes. Also, organizations should have a process in place to program new medication barcodes into information technology databases and ensure that they are linked to the correct product and operational before use. Report any barcode scanning problems to ISMP so we can alert the manufacturer and FDA.
For a more in-depth understanding of barcodes and scanning equipment, and the challenges associated with planning and implementation of a barcode verification system for medications, the American Society of Health-System Pharmacists Foundation published a tool kit for pharmacists in 2016 that serves as an excellent resource on the topic.3 
---
References
Cummings J, Ratko T, Matuszewski K. Barcoding to enhance patient safety. Patient Safety & Quality Healthcare. September/October 2005. 
Koppel R, Wetterneck T, Telles JL, Karsh BT. Workarounds to barcode medication administration systems: their occurrences, causes, and threats to patient safety. J Am Med Inform Assoc. 2008;15(4):408-23.
 ASHP Foundation. Pharmacist's tool kit for implementing barcode medication administration. 2016.