Topical gel dispensed in an ENFit syringe given via G-tube
 A chronic pain service provider prescribed a topical gel containing amitriptyline 1% and ketamine 1% for an inpatient with a gastrostomy tube (G-tube). The pharmacy-compounded gel (1 mL) was packaged in ENFit syringes, which were labeled with the ingredients and topical route of administration. While administering several oral liquid medications packaged in ENFit syringes via the patient's G-tube, a nurse accidentally administered the topical gel that way, too. The topical gel was scheduled for application at the same time as the enteral liquid medications. Fortunately, there were no systemic effects from the drug, and the patient was not harmed.
Although it may not be considered "unit dose," it would be safer to package compounded topicals in available tubes or jars. Yet, packaging topical products in oral syringes appears to be a common practice at many hospitals, compounding pharmacies, and outsourcers. After conversion to ENFit, oral syringes may no longer be available since ENFit syringes can be used in place of oral syringes. Such was the case at the hospital that reported this error.
The hospital is now exploring unit dose blisters that are typically used for repackaged solid oral dosage forms for packaging and dispensing of low-volume topical ointments and gels. Still, whenever a substance meant for one route is placed in packaging meant for another route, the chance of administering the medication by the wrong route is increased. For example, we have previously reported errors related to accidental injection of topical thrombin that was placed in a parenteral syringe.
Topical medications should never be placed in a parenteral syringe, since the consequences of administering a topical medication by a parenteral route could be devastating. The primary strategy for preventing this type of error is to package a topical medication in a container that practitioners would expect, such as tubes or jars. But if your hospital must use an ENFit or oral syringe to package a topical product, affix a prominent auxiliary label stating, "For External Use Only," over the syringe cap (Figure 1), as well as on the immediate container to cover any incorrect route-specific instructions. (Some syringes state, "For enteral use" or "For oral use," which would communicate the wrong route.) Pharmacy should track patients with feeding tubes (which will soon all be ENFit). When possible, avoid scheduling topical medications packaged in an oral or ENFit syringe at the same time oral or enteral drugs are administered.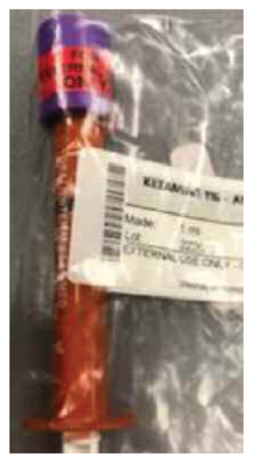 Access this Free Resource
You must be logged in to view and download this document.