Survey Results: Community Liaison Programs to Decrease Hospital Readmissions
ISMP would like to thank more than 250 healthcare professionals, primarily pharmacists and nurses, who completed our survey on community liaison programs in November and December 2012. We conducted the survey to learn more about these relatively new programs in which one or more dedicated health professionals serve as a liaison between the hospital and post-hospital setting, particularly in regards to the patient's pharmaceutical care plan and follow-up appointments. Now that penalties enacted with the Affordable Care Act are being levied against hospitals with high readmission rates for patients with heart failure, heart attack, and pneumonia, the stakes have never been higher to prevent readmissions within 30 days. Given that medication discrepancies contribute largely to readmissions,1 a community liaison program can help reduce this risk while improving the quality of life for the patient.  
Survey Results
One in three (31%) respondents to our survey has established a community liaison program in their hospital; of these, 78% are hospital-run programs that utilize internal staff; 10% are vendor-run programs operated by an external pharmacy organization; 12% are a combination of hospital- and vendor-run programs. 
Hospital-Run Programs
Respondents offered a variety of reasons for developing a hospital-run community liaison program rather than using an outside vendor to provide this service. Respondents thought an internal program was most convenient for patients and less likely to result in delays in filling prescriptions prior to discharge. They felt inpatient pharmacists could provide better transitional care to patients due to familiarity in navigating through a patient's medical record, knowledge of complications that may have occurred during the hospitalization, and ease of communicating with in-house physicians and other caregivers. Respondents felt that internal staff would be better able to advocate for the needs of the patients. Respondents with internal programs also felt it was an advantage to the hospital both clinically and financially to keep the program in-house. They already had qualified staff that could provide the service, and/or they expressed a desire to invest in their existing staff and expand the pharmacists' services beyond the hospital stay. Many felt that an internal program had greater flexibility to adapt to the changing needs of the hospital and its patients. Several respondents also felt that patient satisfaction scores, which are linked to the financial stability of the hospital, were best maintained or improved by offering the service internally. Respondents in hospitals with an outpatient pharmacy suggested that an internal program seemed like a rational expansion of pharmacy resources. 
The most important goals of respondents' hospital-run programs, listed in rank order, included preventing or reducing readmissions, facilitating safe medication use in the home, and coordinating pharmaceutical care upon discharge. The vast majority (80%) of hospital-run community liaison programs utilize hospital pharmacists to provide the service either alone or as part of a team that provides the service; others utilize a nurse/nurse practitioner (29%), community pharmacist (18%), or physician (6%) either alone or as part of a team. In at least half of respondents' hospitals, community liaison professionals directly interact with the patient's primary care physician, hospital pharmacists, and other members of the patient's care team, most often by phone, email, or mail. About three-quarters (78%) interact with the patient at the bedside but less than half interact with the patient's physician specialist or community pharmacist. While one might expect a hospital-run program to include interaction with all patients or caregivers before discharge from the hospital, only about three-quarters (78%) of respondents reported this; many (65%) contact the patient or caregiver by phone. Likewise, only 41% of respondents interact with patients and caregivers in the home or post-hospital setting.
Vendor-Run Programs
Respondents who utilized a vendor-run community liaison program reported several reasons for outsourcing this service. According to respondents who have employed vendor-based community liaison programs, the goals of the program were very similar to those mentioned by respondents with hospital-run programs. Believing that additional staff might need to be hired, respondents said convenience and lower cost were the most common reasons for using a vendor-run program. Respondents also suggested that vendor-run community liaison programs have been shown to increase patient satisfaction scores related to explaining possible drug side effects.
Respondents who utilize a vendor-run community liaison program reported that both community pharmacists and pharmacy technicians provide the service. Direct interaction between patients and a community liaison professional occurs at the bedside with all (100%) patients/caregivers, and three-quarters (75%) are contacted by phone and visited in the home or other post-hospital setting. Respondents also reported that vendor-run programs include more face-to-face contact with the primary care physician (50%) than hospital-run programs (25%). However, no interaction was reported between the community liaison professional and hospital pharmacists, and little interaction was reported between the liaison professional and the patient's community pharmacist. 
Respondents who reported a combination of vendor- and hospital-run programs were mostly large health systems in which hospitals with a fully owned retail pharmacy on-site provided a hospital-based program, and hospitals without an on-site retail pharmacy used a vendor-based program.
Future Plans for Pharmacy Liaison Programs
More than three-quarters (79%) of respondents without a program told us they plan to provide a community liaison program in the future. Of these, 84% said they would prefer to develop a hospital-run program. The frequently cited reasons for this choice have been compiled in Table 1. About 5% of respondents without a community liaison program said the hospital has been approached by an external vendor to provide this service, most often by phone or email, although several respondents reported face-to-face meetings between the vendor and corporate executives, such as the chief financial officer. Among the 16% of respondents who said they would prefer a vendor-run program, many provided the same reason: to ensure adequate resources dedicated to this purpose given that the hospital pharmacy was currently understaffed and busy. One respondent suggested that an outside perspective might be an added bonus if the liaison is able to bring a broader view of lessons learned to the hospital.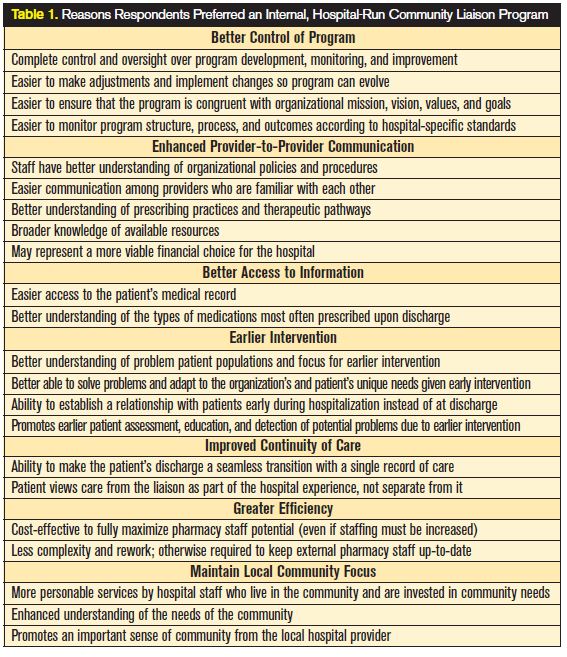 Conclusions
Studies cited in our November 15, 2012, newsletter article clearly suggest that community pharmacy liaison programs can help reduce hospital readmissions and other types of harm and wasted healthcare resources associated with preventable adverse drug events. Thus, hospitals should not be tentative in their pursuit of such a program, be it hospital- or vendor-run. Although these programs may not yet be widespread, they are proving to be a valuable resource that may improve patient outcomes while reducing healthcare costs. With the new financial penalties associated with readmissions alone, now is an opportune time to garner interest and support for the program from hospital leadership. During the survey, health professionals asked us if we could provide contact information for hospitals that have implemented a community liaison program so they could get a sense of what has worked or not worked. If your hospital has implemented a community liaison program and would be willing to talk to others, please send your contact information to [email protected].
Reference
Coleman EA, Smith JD, Raha D, et al. Posthospital medication discrepancies: prevalence and contributing factors. Arch Intern Med. 2005;165:1842-7.