Selenious acid product labeled in terms of active moiety
Last year, American Regent launched a new presentation of selenium to reflect the American Society for Parenteral and Enteral Nutrition (ASPEN) recommendations for trace element supplementation for adults (60-100 mcg/day) and children (1-2 mcg/kg/day, maximum 100 mcg/day). The US Food and Drug Administration (FDA)-approved product, labeled "Selenious Acid," is equivalent to 60 mcg of selenium per mL and is available in a 600 mcg per 10 mL vial (Figure 1). Previously, only an unapproved American Regent selenium product (400 mcg per 10 mL, 40 mcg/mL) was available. The concentration of the FDA-approved selenious acid injection allows delivery of the recommended dose of selenium in a smaller volume compared to the unapproved product.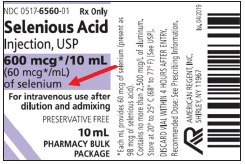 A compounding pharmacy received an order for parenteral nutrition (PN) in which 60 mcg of selenious acid was ordered but 60 mcg of selenium was intended. At first, pharmacy staff thought this product contained 60 mcg/mL of selenious acid, even though it is labeled in terms of the active moiety, or the elemental selenium content of the product. The principal display panel on the vial label notes "of selenium," and labeling on a side panel further explains that each mL contains 60 mcg of selenium, present as 98 mcg of selenious acid. This was initially missed, but a pharmacist noticed it when checking the ingredients before the PN was compounded. The previous product was labeled as selenium 400 mcg/10 mL, and the selenious acid content was listed on the side panel as 65.4 mcg. Confusion could be reduced by expressing the dose on the label as "600 mcg*/10 mL of selenium (60 mcg*/mL), using boldface type to draw attention to "of selenium." At present, people may simply read "600 mcg/10 mL" and think it indicates the amount of selenious acid, not selenium.
American Regent is advising customers that "All future orders will be filled with FDA-approved Selenious Acid Injection, USP (NDC 0517-6560-25). NDC 0517-6510-25 [selenium] can remain in your inventory. There is no need to return the product and it is suitable for use through expiry unless a situation arises to warrant a return."
A one-year subscription grants you access to even more information!
Access this Free Resource
You must be logged in to view and download this document.