Rocuronium peel-off label shows amount per mL not per vial
When checking a rapid sequence intubation kit, a pharmacist noticed that the strength expressed on rocuronium 5 mL vials from Fresenius Kabi had changed from the usual 50 mg/5 mL to 10 mg/mL. Upon closer inspection, the pharmacist realized that the manufacturer had added a peel-off label noting 10 mg/mL over the actual vial label that states 50 mg/5 mL (Figure 1). During a busy intubation scenario, someone might mistake the vial as containing a total of 10 mg, not 50 mg. The peel-off label is meant to be removed from the vial label and attached to a syringe once the drug has been drawn up. The pharmacy is now removing the 10 mg/mL peel-off label before dispensing the vials.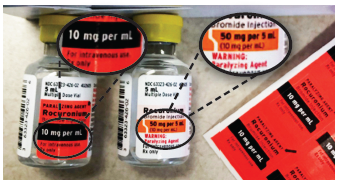 We previously described this problem in our October 18, 2018 newsletter, and our July 26, 2018 newsletter mentioned a similar situation with peel-off labels on BRIDION (sugammadex) vials that indicate the per mL concentration instead of the amount per   volume in the vial. The peel-off labels are now included separately in packaging.
Of note, Fresenius Kabi also includes additional peel-off labels in the carton with the rocuronium vials, so the label on the vial is not necessary. We contacted Fresenius Kabi, and the company is going to remove the peel-off label from the vial. They will continue to include the peel-off labels separately in the carton. We appreciate their response.
A one-year subscription grants you access to even more information!
Access this Free Resource
You must be logged in to view and download this document.