Risk-prone scenarios with multi-trace products
Problem: MULTRYS (trace elements injection 4), manufactured by American Regent, is a combination of four trace elements (zinc sulfate, cupric sulfate, manganese sulfate, and selenious acid) indicated for neonatal and pediatric patients weighing less than 10 kg. Each mL of Multrys contains zinc 1,000 mcg, copper 60 mcg, manganese 3 mcg, and selenium 6 mcg. For patients weighing less than 3 kg, Multrys does not provide the recommended daily dose of zinc; and for patients weighing 0.4 kg to 0.59 kg and 4 kg to 9.9 kg, Multrys also does not provide the recommended daily dose of copper or selenium. This means that, for many pediatric patients, individual supplements of zinc, copper, and selenium will be needed, often every other day, to meet requirements. It can be challenging to ensure patients receive the correct amount of all trace elements and to operationalize a supplementation schedule of every other day.
American Regent also manufactures TRALEMENT, intended for adult and pediatric patients weighing 10 kg or more. Each mL of Tralement contains zinc 3 mg, copper 0.3 mg, manganese 55 mcg, and selenium 60 mcg. Similar to how Multrys requires trace element supplementation for certain weight ranges, for adult and pediatric patients weighing 10 kg to 49 kg receiving Tralement, additional zinc, copper, and selenium are required to meet the recommended daily dose.
American Regent previously manufactured MULTITRACE-4 NEONATAL, which contained zinc, copper, manganese, and chromium rather than selenium. The product had a clear indication on the label that it was intended for neonates. The current Multrys and Tralement vials do not indicate the intended age group or weight category on the labeling. A mix-up between the two currently available products (Multrys and Tralement) would potentially place neonates at risk for lethal overdoses of trace elements if Tralement was inadvertently used.
In addition, American Regent now offers a single-dose vial of selenious acid containing 12 mcg/2 mL (6 mcg/mL) of selenium (Figure 1). This new concentration should not be confused with the multidose selenious acid vial that provides 600 mcg/10 mL (60 mcg/mL) of selenium (Figure 2). Confusion between the two concentrations of these products could result in 10-fold dosing errors. We have previously reported confusion with selenious acid injection and the amount of active moiety, selenium, in the product.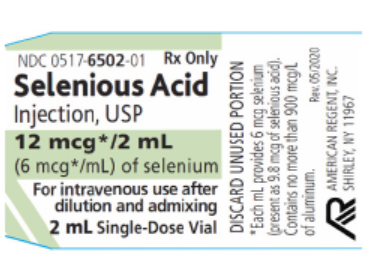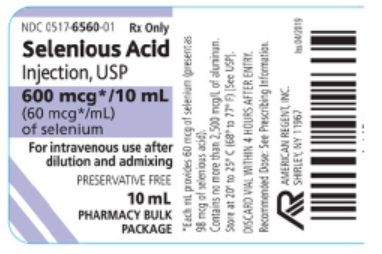 Safe Practice Recommendations: If your organization uses Multrys and/or Tralement, be aware of the above limitations and evaluate the various patient weight categories that will require different dosages as well as differing amounts of individual trace elements. Develop a process to accommodate every other day supplementation and standardize your order templates accordingly. Incorporate an independent double check when creating and modifying order templates.
Also, consider selecting predetermined days for when the combination trace products are administered, such as Monday, Wednesday, and Friday, alternating with individual trace supplements on Tuesday, Thursday, Saturday, and Sunday for consistency during the weekend. Alternatively, due to the limitations of the current combination multi-trace products described above, organizations may want to explore purchasing separate trace element ingredients, including selenious acid. If possible, purchase only one concentration of selenious acid and use barcode scanning technology during compounding. Highlight these nuances in your parenteral nutrition (PN) education to generate practitioner awareness.
Suggested citation:
Institute for Safe Medication Practices (ISMP). Risk-prone scenarios with multi-trace products. ISMP Medication Safety Alert! Acute Care. 2022;27(15):4-5.
Access this Free Resource
You must be logged in to view and download this document.