Risk of IV bupivacaine administration
Vials of bupivacaine and pantoprazole from AuroMedics look alike, increasing the risk of a mix-up that could lead to inadvertent administration of intravenous (IV) bupivacaine. The vials have different geometric shapes on the primary display panels, but both labels use a light blue color, and both clear glass vials are the same size with aluminum ferrules, contributing to their similar appearance (Figure 1). Thus, the risk of a mix-up is increased if these vials are stored near one another, such as in an emergency department or perioperative area.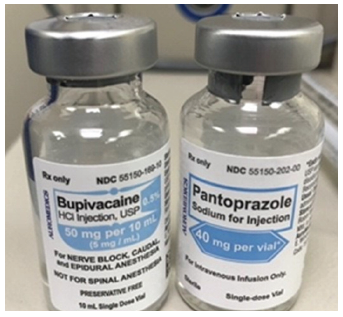 We have contacted the company to recommend changes to the labels. However, to be safe, please consider purchasing these products from different manufacturers. Barcode scanning should be employed prior to drug preparation and administration to detect any mix-ups between these products. Due to the cardiotoxic effect of bupivacaine (asystole) when the drug inadvertently reaches systemic circulation, lipid emulsion should be readily available where bupivacaine is stocked or used for reversal if needed.
A one-year subscription grants you access to even more information!