QuarterWatch™ (First Quarter 2011) Signals for Dabigatran and Metoclopramide
QuarterWatch™ is an ISMP surveillance program that monitors all serious, disabling, and fatal adverse drug events (ADEs) reported to the US Food and Drug Administration (FDA) by drug manufacturers and by the public through its MedWatch reporting program. The goal of QuarterWatch ™ is to improve patient safety through the identification of signals that may represent important drug safety issues. The term signal means evidence we judge to be substantial enough to warrant publication but which usually requires further investigation to determine its frequency of occurrence and establish a causal relationship to the suspect drug.
Reporting totals and trends
Based on recently released FDA data, the agency received 40,151 domestic reports of serious, disabling, or fatal injuries associated with drug therapy in the first quarter of 2011. The total represents a 3% increase over the previous calendar quarter, and a 19.5% increase over the first quarter of 2010. The greatest increase was in the number of reports originating from consumers and submitted to FDA through drug manufacturers. According to the IMS Health National Prescription Audit, the number of dispensed prescriptions also increased by 1% compared to the previous quarter and by 3% compared to the same quarter of 2010.
ADE signals for selected medications
Dabigatran (PRADAXA). This drug, which was launched in October 2010 to reduce the risk of stroke in patients with atrial fibrillation, generated hundreds of adverse event reports during the first quarter of 2011. Overall, 932 serious adverse events were linked to this drug, including 120 deaths, 25 cases of permanent disability, and 543 cases requiring hospitalization. Of the 932 events, 505 cases involved hemorrhage, more than any other monitored drug including warfarin, which ranked second with 176 cases of hemorrhage. The total included 120 cases that described the event with terms indicating hemorrhagic stroke, which is particularly problematic given that the drug's primary indication is to prevent ischemic strokes.
The adverse events related to hemorrhage occurred in elderly patients with a median age of 80 (compared to 56 years of age for all other drugs). A quarter of these patients were 84 years or older, raising a question regarding safe dosing and monitoring in older patients. Unlike warfarin, dabigatran was approved in a "one size fits all" dose of 150 mg twice a day (except for patients with severe renal impairment). The FDA rejected a lower dose regimen of 110 mg twice daily, which had been sought by Boehringer Ingelheim, the drug's manufacturer, and approved in Canada, Japan, and European countries.
Impaired renal function, which often occurs in older patients, is a related safety issue. In studies of dabigatran, patients with mild renal impairment had dabigatran blood levels that were 50% higher than patients with normal kidney function, and moderately impaired kidney function could result in dabigatran blood levels three times higher. Dabigatran prescribing information does not recommend dosage adjustment except in cases of "severe" renal impairment, where a dose of 75 mg twice daily is recommended. We believe FDA and the manufacturer should reevaluate dosing in the elderly or those with moderate renal impairment to determine optimal dosing and monitoring requirements.
These concerns and recommendations were shared with Boehringer Ingelheim, the manufacturer. While the company had also observed a large volume of serious adverse event reports, a representative noted that the prescribing information already warned about an increased risk of significant and sometimes fatal bleeding. The company attributed the volume of reports to the drug's rapid acceptance and active sales force with extensive physician contact. The company reported it is working with FDA to provide better guidance to physicians on treating elderly patients, especially those with transient (e.g., contrast media use) or chronic impaired renal function. The company declined to comment on whether it would again seek FDA approval for the lower 110 mg dose.
Metoclopramide (REGLAN). Metoclopramide, a widely prescribed drug used to treat nausea, gastric reflux, and gastroparesis has a troubling side effect known as dyskinesia—involuntary, abnormal movements including lip smacking, eye rolling, drooling or protruding tongue, and sometimes repetitive movements of limbs. If the dyskinesia becomes irreversible, it is called tardive dyskinesia. In the first quarter of 2011, 63 new cases of dyskinesia were identified along with 1,180 cases arising from lawsuits against the drug's manufacturer for adverse events that occurred over a longer period of time. This side effect challenges the core concept that a drug's benefits (control nausea and reflux, improve emptying of the stomach) must outweigh its risks (irreversible neurological damage).
The drug blocks dopamine receptors in the brain, which help control muscle movement, mood, behavior, sexual development, and weight regulation. The drug also blocks serotonin receptors, which affect mood and regulate the digestive system. Its mechanism of action is similar to the most powerful drugs used to treat psychosis and schizophrenia—thus it shares some of the same risks. Antipsychotic drugs are believed to cause tardive dyskinesia in 5-10% of patients during the course of a year.1-2 Data are less clear for metoclopramide, but there are published estimates of tardive dyskinesia in 1-10% of patients, depending upon the length of exposure.3 One may argue that tardive dyskinesia may be an unavoidable risk with drugs used to treat the most severe mental disorders, particularly when other drugs are ineffective. However, for less severe disorders, and with safer alternatives available, the risk may outweigh the benefits of using metoclopramide.
The FDA's Office of Surveillance and Epidemiology conducted a study in 2007 and discovered that doctors were frequently disregarding an important safety measure—limiting use of the drug to 12 weeks or less; 20% of prescriptions were for longer durations.4 Two years later, FDA required a prominent Boxed Warning regarding tardive dyskinesia and a Medication Guide to warn patients about the dangers of prolonged use. The warning may have contributed to a slow decline in the volume of prescriptions, but still, more than 986,000 outpatient metoclopramide prescriptions for oral tablets were dispensed in the first quarter of 2011.
Patients have been exposed to this poorly controlled drug risk since the drug's approval in 1980. Safer alternatives exist for the treatment of nausea and gastric reflux, but apparently, metoclopramide is the only drug FDA-approved for gastroparesis. However, recent review of metoclopramide for this indication found no benefit after 1 month of therapy.3 Given that gastroparesis is a chronic disorder, this short-term benefit may not justify the risk.
FDA and manufacturers should consider substantial action to reduce tardive dyskinesia caused by this widely used drug, such as highly restricted availability limited to a few weeks of use and repeal of all its first-line indications. Its use in injectable form for nausea from surgery and chemotherapy should also be reassessed, given the presence of numerous safer alternatives.
High-volume prescription drugs. For the first quarter of 2011, we looked at the serious adverse events associated with the five most widely dispensed prescription drugs: HYDROcodone with acetaminophen, levothyroxine, simvastatin, lisinopril, and azithromycin. One would hope that the most time-proven (all were on the market for 20 years or longer) and widely used drugs rank among the safest. We found 708 reports of serious injuries and death reported among the 116.7 million dispensed prescriptions for these drugs. The predominant adverse events identified in these reports are relatively well known risks. However, the adverse events with these older drugs may infrequently be reported to FDA given familiarity with their safety profiles.
Even when reporting rates are low, a single quarter of adverse event data still reveal important information about the reported risks of these prescription drugs (listed in Table 1). For levothyroxine, we noted an unexpected signal of suicidal and self-injurious behavior, with 20 completed suicides in the quarter. In a problem we have noted before, three companies reported the same suicides that were listed in a poison control annual report even though levothyroxine was not the suspect drug but just one of many drugs found in the blood of the overdose victims who had also taken drugs with an established suicide risk.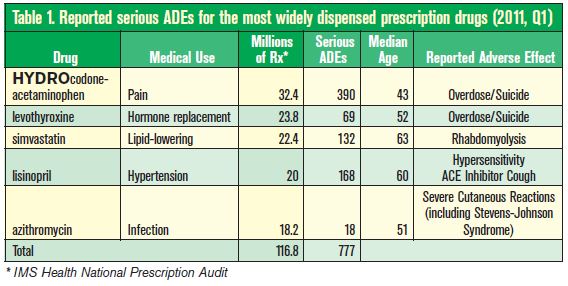 The full QuarterWatch™ report with references can be found here.
---
References
American Psychiatric Association Task Force on late neurological effects of antipsychotic drugs. Washington, DC: American Psychiatric Association. 1980:17.
Schooler N, Rabinowitz J, Davidson M, Emsley R, et al. Risperidone and haloperidol in first-episode psychosis: a long-term randomized trial. Am J Psychiatry. 2005;162:947–53.
Lee A, Kuo B. Metoclopramide in the treatment of diabetic gastroparesis. Expert Rev Endocrinol Metab. 2010;5:653–62.
Kaplan S, Staffa JA, Dal Pan GJ. Duration of therapy with metoclopramide: a prescription claims data study. Pharmacoepidemiol Drug Saf. 2007; 16: 878–81.