Proper interpretation of expiration date format
A pharmacy team recently experienced an error caused by the format of the expiration date on a stock bottle of aminocaproic acid oral solution that was used to prepare patient-specific oral syringes. The product expired on January 8, 2021, but remained in the pharmacy inventory after that date. As part of the pharmacy's expiration date tracking process, a sticker labeled "8/21" had been affixed to the front of the stock bottle to assist staff in properly rotating the stock. When the sticker was created, the manufacturer expiration date format had been incorrectly interpreted as year-day-month, rather than the intended year-month-day (Figure 1). The discrepancy was later discovered, and the expired product was discarded. Unfortunately, the product already had been dispensed to at least one patient and possibly others.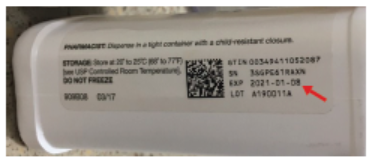 In addition to raising awareness with the pharmacy team through the department's weekly newsletter, signage describing the correct interpretation of standard expiration date formatting (YYYY-MM-DD or YYYY-MM) has been placed in the non-sterile compounding area where oral syringes are prepared and with the materials used to conduct the expiration date tracking/labeling process.
A new USP standard for expressing expiration dates that utilizes this format will become official in 2023. Manufacturers will be allowed to use YYYY-MM for numerical dates (e.g., 2021-01, 2021/01) or alphanumeric dates where months must be displayed using at least three letters in one of the following formats: YYYY-MMM-DD (e.g., 2021-JAN-08, 2021/JAN/08) or YYYY-MMM (e.g., 2021-JAN, 2021/JAN). When the day of the month is not specified, the intended expiration date is the last day of the stated month.
Access this Free Resource
You must be logged in to view and download this document.