Prolia-Udenyca look-alike update
We continue to receive reports about potential look-alike mix-ups between cartons of PROLIA (denosumab; Amgen), an osteoporosis drug, and UDENYCA (pegfilgrastim-cbqv; Coherus BioSciences), a biosimilar leukocyte growth factor associated with the reference pegfilgrastim product, NEULASTA. The US Food and Drug Administration (FDA) initially approved Prolia in 2010. Udenyca was approved in November 2018, and since its launch in January, we have received 12 reports of potential mix-ups. None of the reports have mentioned an actual error involving a patient. However, as reported in our May 23, 2019 issue, we have received reports of dispensing and drug storage errors. In several cases, a Prolia syringe carton was stocked in place of Udenyca, and vice versa, in automated dispensing cabinet refrigerators in outpatient infusion sites.
The reports all indicate that the similar appearance of the outer cartons of these medications increases the risk of a medication error (Figure 1). Each carton holds a single syringe. Each outer carton has similar green and white coloring, and the packaging appears to be of similar size and dimension. Both medications are marked "for subcutaneous use." The concentration for each drug is listed in a green circle in the same location. Both concentrations include the numbers 6 and 0, which one reporter thought could add to the confusion. The Prolia 1 mL syringe contains 60 mg, and the Udenyca 0.6 mL syringe contains 6 mg. Prolia and Udenyca are likely to be dispensed to the same outpatient centers. Both are refrigerated items and may be near one another if stored alphabetically by brand name. Once the carton is opened, the syringes look different, but this may not be helpful in differentiating the medications unless the person handling it already knows what it should look like.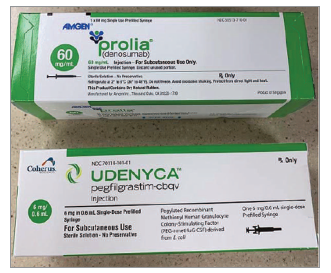 If you use these medications anywhere in your health system, please be sure to directly observe how these products are stored, including in ambulatory care cancer centers or other clinical areas.  Make sure staff are aware of the potential for confusion should both drugs be available. Be sure that staff are using available barcode scanning to verify the medication before it is dispensed or administered. Another suggestion made in May was for pharmacy staff to consider circling (with a permanent marker) the drug name on the carton to draw attention to it. Coherus BioSciences informed us that it is actively investigating the situation and will soon decide on necessary actions.   
A one-year subscription grants you access to even more information!
Access this Free Resource
You must be logged in to view and download this document.