Some medical abbreviations, symbols, and dose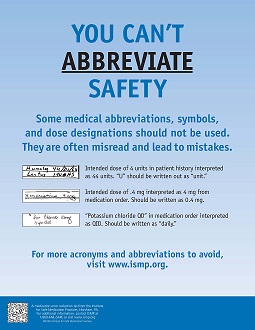 designations should not be used as they are often misread and lead to mistakes. This poster provides examples of medication orders with ambiguous or difficult-to-read abbreviations as well as how they should be written out.
Poster - You Can't Abbreviate Safety
Dimensions: 8.5" w x 11" h
Access this Free Resource
More Books, Posters, and DVDs
Beyond Blame is a must-see for all who are responsible for patient care. The award-winning DVD introduces viewers to "Just Culture," a way of thinking that fixes problems rather than assigning fault.
This poster presents sample drug orders with "q.d." and "q.i.d." that show how those abbreviations can be confused, and emphasizes that they be spelled out for greater clarity.
Crushing or splitting some oral medications may alter the intended effect and possibly result in patient harm. This poster provides a checklist of questions that healthcare practitioners should ask before they consider crushing or splitting medications.