Some medical abbreviations, symbols, and dose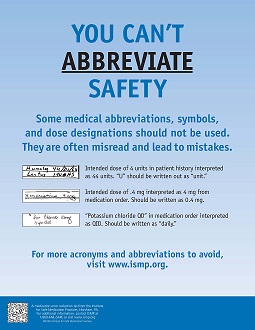 designations should not be used as they are often misread and lead to mistakes. This poster provides examples of medication orders with ambiguous or difficult-to-read abbreviations as well as how they should be written out.
Poster - You Can't Abbreviate Safety
Dimensions: 8.5" w x 11" h
More Books, Posters, and DVDs
Award-winning DVD introduces viewers to "Just Culture".
Commonly referred to as the "Do Not Crush" list, healthcare professionals are alerted about medications that should not be crushed.
Unlabeled syringes, basins, bowls, and cups can be dangerous.