Verbal and telephone medication orders can be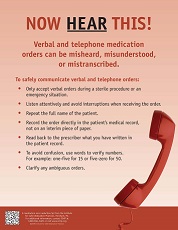 misheard, misunderstood, or mistranscribed. This poster gives healthcare practitioners a checklist for safe order communication.
Poster - Now Hear This!
Dimensions: 8.5" w x 11" h
More Books, Posters, and DVDs
Award-winning DVD introduces viewers to "Just Culture".
This poster provides examples of medication orders with ambiguous or difficult-to-read abbreviations as well as how they should be written out.
Quick reference guide to several of ISMP's lists and resources.