When drug names are abbreviated, they may be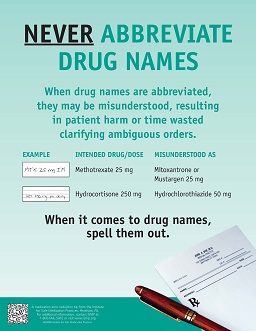 misunderstood, resulting in patient harm or time wasted clarifying ambiguous orders. This poster presents examples of orders where the intended drug/dose was misunderstood and counsels healthcare practitioners to always spell out drug names.
Poster - Never Abbreviate Drug Names
Dimensions: 8.5" w x 11" h
Access this Free Resource
More Books, Posters, and DVDs
Beyond Blame is a must-see for all who are responsible for patient care. The award-winning DVD introduces viewers to "Just Culture," a way of thinking that fixes problems rather than assigning fault.
This poster provides examples of medication orders with ambiguous or difficult-to-read abbreviations as well as how they should be written out.
Quick reference guide to ISMP's list of high-alert medications, documented drugs with look-alike-sound-alike risk, and error-prone abbreviations, symbols, and dose designations. **Sold in packs of 5**