It is uncommon to need more than 2 or 3 tablets,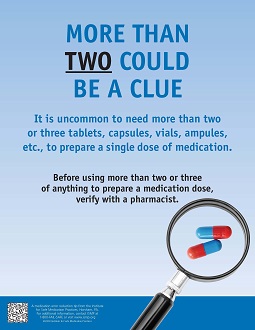 capsules, vials, ampules, etc. to prepare a single dose of medication. This poster alerts healthcare professionals to this fact and urges verifying with a pharmacist medication doses that seem to require more than 2 or 3 of anything.
Poster - More Than Two Could Be a Clue
Dimensions: 8.5" w x 11" h
Access this Free Resource
More Books, Posters, and DVDs
Beyond Blame is a must-see for all who are responsible for patient care. The award-winning DVD introduces viewers to "Just Culture," a way of thinking that fixes problems rather than assigning fault.
When drug names are abbreviated, they may be misunderstood, resulting in patient harm or time wasted clarifying ambiguous orders. This poster presents examples of orders where the intended drug/dose was misunderstood and counsels healthcare practitioners to always spell out drug names.
This poster recommends that healthcare practitioners label all syringes and sterile containers in patient care areas with the drug name, strength, and amount.