It is uncommon to need more than 2 or 3 tablets,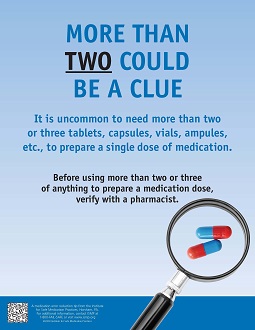 capsules, vials, ampules, etc. to prepare a single dose of medication. This poster alerts healthcare professionals to this fact and urges verifying with a pharmacist medication doses that seem to require more than 2 or 3 of anything.
Poster - More Than Two Could Be a Clue
Dimensions: 8.5" w x 11" h
More Books, Posters, and DVDs
Award-winning DVD introduces viewers to "Just Culture".
This poster provides examples of medication orders with ambiguous or difficult-to-read abbreviations as well as how they should be written out.
Quick reference guide to several of ISMP's lists and resources.