Healthcare practitioners should always prepare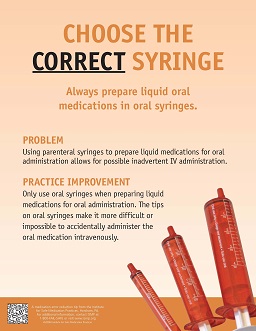 liquid oral medications in oral syringes. This poster emphasizes that the tips on oral syringes make it more difficult or impossible to accidentally administer the oral medication intravenously.
Poster - Choose The Correct Syringe
Dimensions: 8.5" w x 11" h
More Books, Posters, and Videos
Award-winning DVD introduces viewers to "Just Culture".
This chart defines the stability and compatibility of medications that are routinely present in critical care, and intensive care settings. Wall Charts are shipped by a 3rd party supplier. Wall Charts are shipped on Thursdays only. Please contact
[email protected]
with any questions.
Commonly referred to as the "Do Not Crush" list, healthcare professionals are alerted about medications that should not be crushed.