Healthcare practitioners should always prepare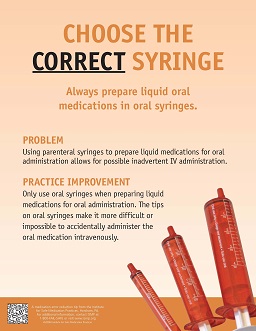 liquid oral medications in oral syringes. This poster emphasizes that the tips on oral syringes make it more difficult or impossible to accidentally administer the oral medication intravenously.
Poster - Choose The Correct Syringe
Dimensions: 8.5" w x 11" h
More Books, Posters, and DVDs
Award-winning DVD introduces viewers to "Just Culture".
It is uncommon to need more than 2 or 3 tablets, capsules, vials, ampules, etc. to prepare a single dose of medication. This poster alerts healthcare professionals to this fact and urges verifying with a pharmacist medication doses that seem to require more than 2 or 3 of anything.
Quick reference guide to several of ISMP's lists and resources.