It is essential that healthcare practitioners place a zero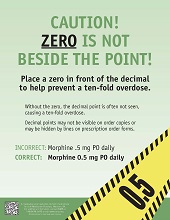 in front of decimal points in drug dosages to help prevent ten-fold overdoses. This poster emphasizes that without the zero, the decimal point is often overlooked, and provides an example. 
Poster - Caution! Zero Is Not Beside The Point
Dimensions: 8.5" w x 11" h
More Books, Posters, and DVDs
Award-winning DVD introduces viewers to "Just Culture".
Healthcare practitioners should always prepare liquid oral medications in oral syringes. This poster emphasizes that the tips on oral syringes make it more difficult or impossible to accidentally administer the oral medication intravenously.
Counsels healthcare practitioners to always spell out drug names.