It is essential that healthcare practitioners place a zero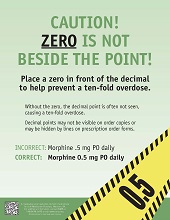 in front of decimal points in drug dosages to help prevent ten-fold overdoses. This poster emphasizes that without the zero, the decimal point is often overlooked, and provides an example. 
Poster - Caution! Zero Is Not Beside The Point
Dimensions: 8.5" w x 11" h
Access this Free Resource
You must be logged in to view and download this document.
More Books, Posters, and DVDs
Beyond Blame is a must-see for all who are responsible for patient care. The award-winning DVD introduces viewers to "Just Culture," a way of thinking that fixes problems rather than assigning fault.
Verbal and telephone medication orders can be misheard, misunderstood, or mistranscribed. This poster gives healthcare practitioners a checklist for safe order communication.
This poster provides examples of medication orders with ambiguous or difficult-to-read abbreviations as well as how they should be written out.