Quick reference guide to ISMP's list of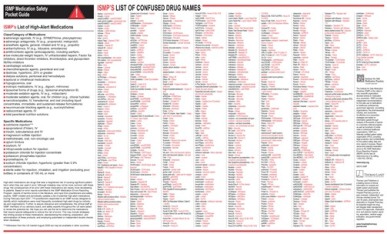 high-alert medications, documented drugs with look-alike-sound-alike risk, and error-prone abbreviations, symbols, and dose designations. 
**Sold in packs of 5**
Pocket Guide - Medication Safety Pocket Guide (pack of 5)
Access this Free Resource
More Books, Posters, and DVDs
Beyond Blame is a must-see for all who are responsible for patient care. The award-winning DVD introduces viewers to "Just Culture," a way of thinking that fixes problems rather than assigning fault.
This poster recommends that healthcare practitioners label all syringes and sterile containers in patient care areas with the drug name, strength, and amount.
Verbal and telephone medication orders can be misheard, misunderstood, or mistranscribed. This poster gives healthcare practitioners a checklist for safe order communication.