Pharmaceutical Industry and Medical Device Companies: Part of the Solution?
In the past few months, there have been numerous, highly publicized, fatal errors reported in the media: one involved infants who died from heparin overdoses, which the hospital believes may have been avoided if the pharmaceutical company had provided distinctive labeling and packaging of various strengths of heparin; another involved a young mother who died after receiving an epidural analgesic intravenously, which might have been avoided if containers, tubing, and connectors for epidural medications were vastly different than intravenous medications. In fact, as we look back on the causes of fatal medication errors that have happened in the last decade, many can be traced to labeling and packaging issues, and problems with medical devices and how humans interact with them.  
This is not to say that poor system design, environmental challenges, and miscommunication within healthcare facilities have not played a large role in medication errors. Still, we have ample evidence that organizations are redesigning systems and environments under their control, as well as improving team communication among all caregivers. But what about the pharmaceutical industry and medical device companies? About 40% of all reports submitted to the USP-ISMP Medication Errors Reporting Program are related to product or device problems. Yet, with few exceptions, we can't say with confidence that the pharmaceutical industry and medical device companies have always stepped up to the plate despite increased attention to these issues. In fact, we repeatedly see evidence of new and existing products and devices that contribute to repeated medication errors.
Take the new OptiClik device from sanofi-aventis. Both LANTUS (insulin glargine [rDNA]) and APIDRA (insulin glulisine [rDNA origin] injection) are available in a  3 mL cartridge to be used with this device. The dose is displayed digitally in a small window near the dial used to set the dose (see Figure 1).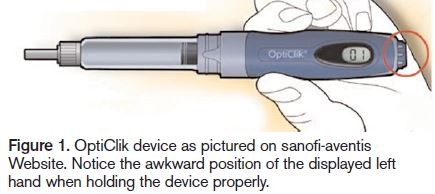 While the dose is clearly visible in the window, the pen could be dialed to the wrong dose if it is oriented in the wrong direction, just like a left-handed practitioner or patient might hold it—upside down, with the needle to the right, away from the hand. (Twenty percent of people are left handed.) For instance, when the pen is oriented incorrectly, a dose that is actually "52" units looks like 25 units (see Figure 2).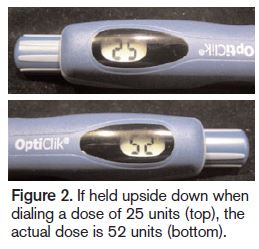 Many other doses can potentially be confused: what appears to be a dose of "10" units is actually "1" unit (01); a dose of "50" units is actually "5" units (05); a dose of "21" units is actually "12" units; a dose of "15" units is actually "51" units; a dose of "62" units is actually "29" units; and so on. The design of this pen is potentially dangerous, as the patient could receive a significant overdose or a subtherapeutic dose of insulin, a high-alert drug. Thus, we believe the device is unacceptable for clinical use under any circumstances unless these safety issues are fully resolved.
As is our usual practice when learning about risks and errors, we contacted sanofi-aventis about this problem and asked if they had received similar complaints. The person at the call center could not tell us if errors had been previously reported. Our complaint was forwarded to the quality department for review, but we have not received a return call. Unfortunately, this is a common response, as many companies are unwilling to share what they know about the problem we are reporting, or to tell us what they plan to do about it, if anything. In some cases, companies that we have contacted about problems have simply sent a letter to ISMP, thanking us for the information but stating that the company is in compliance with FDA regulations and that no additional action is required. Sadly, we've also received letters stating "Reading the label is Nursing 101" or similar comments, implying that the problem lies entirely with the healthcare provider or patient who did not use the product or device correctly.
Much to their credit, many hospitals and pharmacies have been taking steps to reduce the risk of errors with products and devices, as evidenced by our 2004 ISMP Medication Safety Self Assessment. Whether employing failure mode and effects analysis when bringing new devices into the facility or implementing the Joint Commission National Patient Safety Goals related to infusion pumps and look- and sound-alike drug names, improvements at the user end are ongoing, to the extent possible. But many of these strategies are really just a stop-gap measure until all pharmaceutical companies and medical device companies respond with equal accountability through expert pre-market testing—as many pharmaceutical company trademark attorneys are doing with proposed brand names—and a willingness to act quickly when a new problem surfaces through post-marketing surveillance.
Bear in mind: in many highly reliable industries with excellent safety records, manufacturers of products are accountable to design solutions to eliminate user error. For example, Boeing Aircraft, Airbus, and other companies that build airplanes painstakingly design them with user safety in mind. They anticipate that pilots will make mistakes or won't always do what they are supposed to do. If the National Transportation Safety Board (airline safety experts) suggests a safety enhancement after investigating a problem with one airline carrier's planes, all airplane manufacturers are accountable for making the same recommended design change, if applicable. In the pharmaceutical and medical device industry, it is more the exception than the rule to devote significant resources to uncover risks that might happen with their products or devices, make design changes to eliminate user error, and adopt safety enhancements recommended by medical safety experts outside their own company.    
This inertia to safety changes is frustrating, as is the slow response of FDA to issue regulations regarding important safety activities. As we noted 2 years ago in our November 4, 2004 article, (FDA and pharmaceutical industry must be more responsive for a safer healthcare system), FDA has yet to issue new labeling or packaging guidance documents or to require pharmaceutical and medical device companies to test new devices and proposed drug names and packaging using front-line practitioners and safety experts. As we mentioned in our last newsletter, several members of the US Congress have issued a formal letter to FDA to inquire about the long delay in implementing these initiatives and others outlined in the 1999 Institute of Medicine (IOM) report on errors in healthcare. Hopefully, the sweeping changes that were recommended in the recent 2006 IOM report, The Future of Drug Safety: Promoting and Protecting the Health of the Public, will help increase the regulatory muscle of FDA, its monitoring of drug safety both pre- and post-market, and its ability to quickly react to and manage all serious risks identified. 
We realize that fixing blame on FDA, the pharmaceutical industry, and medical device companies is not the answer; we need to join in a concerted effort to get all key stakeholders to work together toward the lasting changes needed to prevent patient harm from medication errors. We all need to be part of the solution.