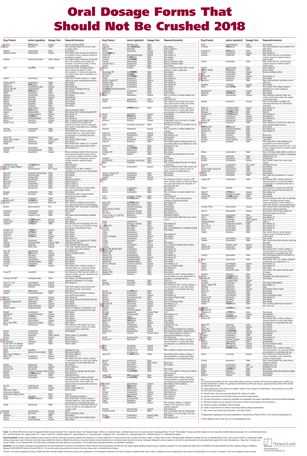 This chart, commonly referred to as the "Do Not Crush" list, alerts healthcare professionals about medications that should not be crushed because of their special pharmaceutical formulations or characteristics, such as oral dosage forms that are sustained-release in nature.
This poster is recommended for use in patient care areas. 
Published 2007, Updated 2020
Wall Charts are shipped by a 3rd party supplier. Wall Charts are shipped on Thursdays only. Please contact [email protected] with any questions.
Wall Chart - Oral Dosage Forms that Should Not be Crushed
Published July 2007, Updated 2020
ISNB# 978-1-57439-301-9
Dimensions: 32" h x 21.5 " w
More Books, Posters, and DVDs
Award-winning DVD introduces viewers to "Just Culture".
It is essential that healthcare practitioners place a zero in front of decimal points in drug dosages to help prevent ten-fold overdoses. This poster emphasizes that without the zero, the decimal point is often overlooked, and provides an example.
Healthcare practitioners should use the exact metric weight when writing drug orders. This poster discourages prescribing only by volume or dosage limit, which can be ambiguous, and provides a correct sample order.