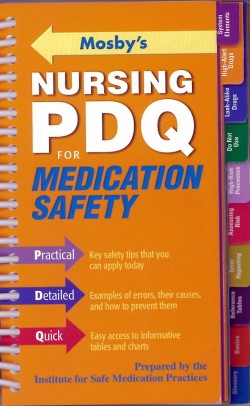 Mosby's Nursing PDQ for Medication Safety  provides every nurse and nursing student with important reference information that they carry along with them into the clinical setting. This pocket-sized handy reference has quick facts about high-alert medications, look-alike drugs, high-risk procedures, assessing risk, error reduction, error reporting, medication administration, and more. This book is ideal for any clinical setting.
Features include:
Pocket size makes it handy to carry around and spiral binding allows booklet to lay flat for easy reference
10 easy-to-find tabbed sections make it easy to gain rapid access to hundreds of essential facts, safety strategies, error reduction methods, and more
Each section divider features a rapid-reference table of contents so users can quickly locate the information they need within each section
Pages are coated so they are water resistant - great for rugged clinical use
The sections cover: System Elements, High-Alert Drugs, Look-Alike Drugs, Error-Prone Abbreviation, High-Risk Procedures, Assessing Risk, Error Reporting, Reference Tables, Administration Basics, and a Glossary
Book - Mosby's Nursing PDQ for Medication Safety
More Books, Posters, and Videos
Award-winning DVD introduces viewers to "Just Culture".
This chart defines the stability and compatibility of medications that are routinely present in critical care, and intensive care settings. Wall Charts are shipped by a 3rd party supplier. Wall Charts are shipped on Thursdays only. Please contact
[email protected]
with any questions.
Commonly referred to as the "Do Not Crush" list, healthcare professionals are alerted about medications that should not be crushed.