Low Dose Enteral Syringe Tip Gets FDA Clearance
NeoMed and Medtronic have each received US Food and Drug Administration (FDA) 510(k) clearance for low dose tip ENFit syringes. NeoMed developed the low dose tip to address an earlier industry-wide problem concerning ENFit syringe deadspace and the associated concerns with dose accuracy when administering small volumes of medications. NeoMed has offered all syringe manufacturers royalty-free access to the design. Thus, other companies are now adopting this low dose tip design. The syringes, along with non-low dose ENFit syringes, are enabling the industry to finally get the new ENFit system on the market to minimize the dangers of accidental misconnections of enteral feedings and medications to intravenous access systems or other systems with a Luer connection. These low dose syringes will be available in sizes from 0.5 mL up to 6 mL. Larger syringes don't require the low dose tip because, as with all syringe types, larger capacity syringes should not be used for low dose amounts when accuracy is required.
The NeoMed 510 (k) clearance includes enteral and oral use of its syringes. The ability to utilize a low dose or standard ENFit syringe for both oral and enteral delivery of liquid medications means that a facility may not necessarily have to maintain a separate inventory of oral syringes once they transition to ENFit. However, for smaller capacity syringes, there has been some concern expressed by neonatal practitioners about flanges near the syringe tips that have been added per ISO standard 80369-3 to mitigate accidental attachment to a tracheostomy tube opening (Figure 1).

The flange may make it difficult to administer medications orally to neonates. To ov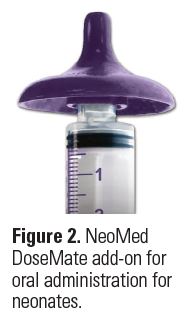 ercome the  problem, NeoMed sells an add-on device called a "DoseMate" (Figure 2). We've learned that other efforts are underway to resolve the "flange" concerns. The Medtronic ENFit syringe does not have a flange at this time, but it's unclear how the company will respond to the ISO standard to prevent connection to a tracheostomy tube. Medtronic's initial clearance did not specify approval of its low dose ENFit syringe for oral use; however, the company has since submitted this claim to FDA and is awaiting 510(k) clearance.
Another issue is the lack of a child-resistant cap for use on over-the-counter (OTC) or prescription liquid medications for patients at home who have feeding tubes. Screw-on transfer lids (Figure 3) and plug-in stepped stoppers (Figure 4) are fine for pharmacy use but are not child resistant. We are told that companies are working to develop a child-resistant cap to prevent accidental overdose in homes where children may be present. In the meantime, in the home, use of an ENFit dosage straw in conjunction with a child-resistant bottle closure seems to be the way to go.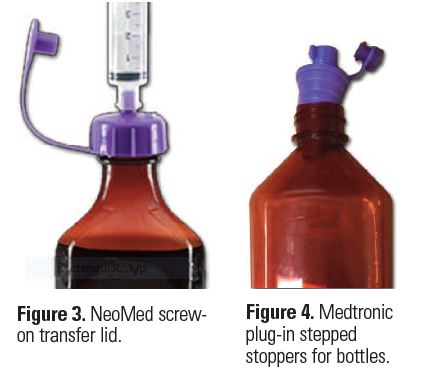 We are very hopeful that this transition will be successful. Vendors, regulators, standards groups, and others involved in the ENFit transition can learn from this experience to guide future implementation of other system connectors to prevent misconnections.