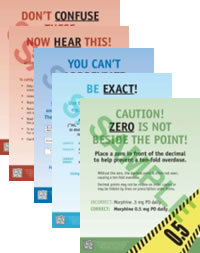 ISMP Safety Posters are designed to promote medication safety in healthcare facilities. They can be used as part of healthcare organizations' patient safety programs and materials, or posted on bulletin boards in staff and patient care areas. Each poster is 8.5 x11 inches.
Topics include:
You Can't Abbreviate Safety
More than Two Could Be A Clue
Positive Identification
Be Exact!
Ask Before You Crush
Never Abbreviate Drug Names
Caution! Zero is Not Beside the Point!
Make it a Daily Habit
Choose The Correct Syringe
Now Hear This!
Poster - Set of 10 ISMP Safety Posters
Complete set of the all new ISMP Safety Posters.
More Books, Posters, and Videos
Award-winning DVD introduces viewers to "Just Culture".
This chart defines the stability and compatibility of medications that are routinely present in critical care, and intensive care settings. Wall Charts are shipped by a 3rd party supplier. Wall Charts are shipped on Thursdays only. Please contact
[email protected]
with any questions.
Commonly referred to as the "Do Not Crush" list, healthcare professionals are alerted about medications that should not be crushed.