QuarterWatch™ (2009 Quarters 1, 2, and 3): ADEs with Zicam Cold Products, AVANDIA, more
QuarterWatch™, an ISMP program used to monitor all domestic serious adverse drug events (ADEs), analyzed computer excerpts of close to 30,000 serious, disabling, and fatal ADEs reported to the FDA during the third quarter of 2009. The steady increase in the volume of reports observed during the past 2 years continued in 2009. Combining the first three quarters of 2009, the total number of reports was 8.1% higher than in the same period in 2008. Because the FDA recently accelerated the release of quarterly computer excerpts of ADE reports for research use, this report includes new findings from the first, second, and third quarters of 2009, although significant focus is on data from the most recent third quarter of 2009.
Drugs Most Frequently Reported
QuarterWatch™ identified 1,949 drug products during the third quarter of 2009. Of these, no serious, disabling, or fatal ADE reports were received for 1,116 (57%) products.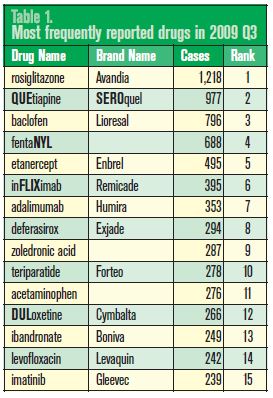 Among the remaining 833 drugs for which ADEs were reported, the median number of reports for each was 7. A total of 57 drugs had 100 or more ADEs reported in the third quarter of 2009. Table 1 shows the 15 most frequently reported drugs, accounting for 24% of all the third-quarter reports.
     
Signals for Specific Drugs
Zicam OTC cold products. In the 2009 data, a strong signal showed that two ZICAM brand over-the-counter (OTC) cold remedies were being blamed for people losing their sense of smell or taste, many permanently. By June 2009, FDA demanded the immediate withdrawal of Zicam Cold Remedy Nasal Gel and Zicam Cold Remedy Gel Swabs, manufactured by Matrixx Initiatives. Both products contain zinc. Two small clinical studies of zinc nasal gels reported that the products shortened the duration and severity of cold symptoms.1,2 But in October 2009, a new independent study conducted at the University of Washington reported that, if zinc comes in contact with smell receptors, it might cause irreversible damage to mouse and human nasal tissue.3
Since 1932, companies selling drug products for the mitigation or cure of disease have been required to conduct scientific studies demonstrating the products are safe and to submit these studies to the FDA for independent review. There are exceptions, however, and Matrixx claims that its Zicam products fell under an exception associated with homeopathic treatments, which involve administering minute quantities of toxic substances in hopes it will stimulate a protective effect from the immune system. While the FDA claims legal authority to regulate homeopathic products, it states that it will not act on products produced in accordance with The Homeopathic Pharmacopoeia of the United States.4 The zinc in the Zicam nasal products was among those listed in this compendium. But two clinical trials with Zicam nasal gel indicated that the investigators believed the product likely had a direct pharmacological effect on the protein coating of cold viruses. In demanding the withdrawal of the Zicam products, the FDA asserted that, despite being a homeopathic remedy, these products had drug effects requiring the full spectrum of testing for safety and efficacy—none of which had been performed prior to millions of people being exposed to these products.
Since the June FDA action, new evidence has emerged that the scope, severity, and permanence of reported Zicam injuries was much larger than originally reported. The case also brings to light the extent to which, in a voluntary reporting system, the actual number of injuries may be much larger than suggested by case report totals. In seeking the withdrawal of the two Zicam products, the FDA cited 130 ADE reports received over a period of several years. But in the 2 weeks following the public announcement, the agency received 511 additional reports, and in the next quarter, another 303 cases. Matrixx had also received more than 1,000 complaints directly from consumers who said they lost their sense of smell. But the company had not reported any of these cases to the FDA. Also, in actual or threatened legal actions, the company had already paid or planned to pay damages to 510 people.
In November 2009, Matrixx petitioned the FDA to reverse its decision and permit the two Zicam products to return to the market. The company maintained that neither the FDA nor anyone else had valid scientific evidence that Zicam products are unsafe.5 The company, therefore, wants to shift the burden of proof to the FDA to prove its products are not safe. The FDA's position is that, because of safety concerns about these products, the burden of proof is on the company to conduct the necessary scientific studies to demonstrate that its products are safe and effective.
Rosiglitazone (AVANDIA). More than 1,000 reports of patient deaths were received for rosiglitazone, an oral medication used to treat type-2 diabetes, in the first three quarters of 2009—more fatal reports than any other drug monitored. Most deaths were attributed to cardiovascular causes, a problem for which the FDA has required label warnings. While these cases do not appear to signal previously undetected risks of rosiglitazone, the large number of reports alleging serious and fatal injuries associated with rosiglitazone further reinforces concerns about its cardiovascular safety. GlaxoSmithKline said that the company also has noted an increase in fatal rosiglitazone outcomes since mid-2007; however, the company attributes the increase in reports to media publicity and public awareness of lawsuits against the company. The FDA reported this week that it would present the results of a complete safety review of rosiglitazone to a special advisory committee, which is meeting in July 2010.
QUEtiapine (SEROQUEL, SEROQUEL XR). QUEtiapine ranked second among all monitored drugs with 977 reports of serious, disabling, or fatal ADEs in which it was the principal suspect drug. Reported cases have risen steadily from 261 cases in the fourth quarter of 2008. Although QUEtiapine has a wide array of possible serious side effects, the surge in new case reports was caused almost entirely by potential cases of diabetes. QUEtiapine was the suspect drug in more possible cases of diabetes than all other drugs combined. AstraZeneca, which manufactures this antipsychotic drug, told us it believed most of the reports involved pending lawsuits from patients who believed the drug had caused diabetes. But the company said it did not believe these reports proved a causal relationship between the drug and diabetes, although FDA requires this risk to be disclosed to prescribers and patients.
The mandatory Medication Guide that warns patients about the risk of diabetes primarily uses the term "high blood sugar (hyperglycemia)" and does not clearly disclose that patients who experience this ADE may need to continue antidiabetic treatment despite discontinuation of QUEtiapine. Also, a warning about the risk of diabetes in the prescribing information is followed by a densely worded paragraph regarding the difficulty with assessing the relationship between the drug and glucose abnormalities. Important advice to physicians regarding patient monitoring does not appear until the following paragraph.
Testosterone (ANDROGEL, TESTIM). Despite FDA warnings about off-label use in women and accidental exposure of children to this powerful male sex hormone applied to the skin as a gel, we observed 155 cases of reported injuries in women and about 22 adverse effects in children. In May 2009, the FDA warned that children were being inadvertently exposed to the gel products through contact with adults who had applied it on their skin.(6) Although only 14.5% of the cases explicitly identified the exposure in women as accidental, we suspect the true total may be higher. The FDA warning and a new requirement for a Medication Guide to provide patients with a warning about accidental exposure appears to be a warranted and appropriate step. In addition, the FDA warning itself may have motivated consumers to report additional cases.
Product quality problems continue. We observed continued signals for recalled products previously reported—notably digoxin. Also, we noted reports of bacterial contamination of Teva Pharmaceuticals' propofol and a newly announced recall of Hospira's propofol because of contamination with particulates. We also noted complaints about recently-approved generic forms of levetiracetam, which FDA is currently investigating. In addition, large product recalls have been announced recently for Johnson & Johnson's Tylenol (acetaminophen) and Motrin (ibuprofen) products due to potential contamination, all of Neilgen Pharma's prescription cough and cold products because they were unapproved, and millions of defective infusion needles and insulin syringes manufactured by Nipro Medical Corporation.
Conclusions  
While many important questions remain unanswered, thousands of people are reporting they have lost their sense of smell after using Zicam Nasal Gel and Swab products that contained zinc. Although millions of people purchased these products for years, these products did not undergo the FDA premarket safety review required for most OTC products. The manufacturer received numerous complaints about loss of the sense of smell and failed to submit them to the FDA. Further study is required to determine how many people permanently lost their sense of smell as a result of these withdrawn products. We recommend that the FDA Commissioner's Office conduct an independent review of these ADEs and their implications for regulatory law, enforcement policy, and the possibility that other dangerous compounds may still be in use.
We believe that the warning regarding the risk of diabetes when taking QUEtiapine needs to be strengthened and clarified in both the Medication Guide that is required for every patient, and in the prescribing information for physicians. Advice regarding clinical monitoring of patients for diabetes also needs to be given prominence over equivocal discussions regarding the difficulties associating the drug with the ADE. If the data regarding the link between diabetes and this drug is equivocal, perhaps more conclusive studies are required to answer questions about this widely occurring adverse effect with this frequently used antipsychotic. 
As product recalls continue into 2010, we continue to call on the FDA to reassess its inspection and enforcement programs intended to assure product quality. As we mentioned in prior QuarterWatch™ reports, FDA often allows companies associated with recalled drugs to handle announcements, it does not require disclosure of the size of the recall, and it may permit long delays before it assesses the level of risk to the public.
The full   QuarterWatch™ report with references can be found here.
---
References:
Mossad SB. Effect of zincum gluconicum nasal gel on the duration and symptom severity of the common cold in otherwise healthy adults. QJM 2003;96(1):35-43.
Hirt M, Nobel S, Barron E. Zinc nasal gel for the treatment of common cold symptoms: a double-blind, placebo-controlled trial. Ear Nose Throat J 2000;79(10):778-80,782.
Lim JH, Davis GE, Wang Z, et al. Zicam-induced damage to mouse and human nasal tissue. PLoS One 2009;4(10):e7647.
CPG Sec. 400.400 Conditions Under Which Homeopathic Drugs May be Marketed. U S Food and Drug Administration Center for Drug Evaluation and Research March, 1995
Matrixx Initiatives, Inc. Form 8-K. US Securities and Exchange Commission November 9, 2009.
Safety Concerns About Testosterone Gel. U S Food and Drug Administration Center for Drug Evaluation and Research May 7, 2009