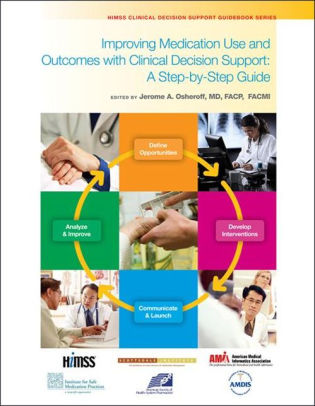 Improving Medication Use and Outcomes with Clinical Decision Support is the result of a ground-breaking collaboration by dozens of individuals and organizations, with diverse perspectives and competencies. Edited by Jerome Osheroff, MD, the book is co-published by HIMSS, the Scottsdale Institute, AMIA, ISMP, ASHP, and AMDIS.
This book is designed to help clinical decision support (CDS) implementers improve medication use and associated outcomes in their organizations by providing practical recommendations for successfully implementing CDS focused on these targets.
Chapters include detailed guidance on key areas in an effective CDS-medication management program such as:
Optimizing governance structures and management processes
Defining outcome improvement opportunities and baselines
Setting up interventions in key clinical information systems and for specific targets
Deploying CDS interventions to optimize acceptance and value
Measuring results and refining the program
Approaching CDS knowledge management systematically
An appendix includes information on the use of CDS for prescription safety in the small practice environment.
Book - Improving Medication use and Outcomes with Clinical Decision Support: A Step-by-Step Guide
More Books, Posters, and Videos
Award-winning DVD introduces viewers to "Just Culture".
This chart defines the stability and compatibility of medications that are routinely present in critical care, and intensive care settings. Wall Charts are shipped by a 3rd party supplier. Wall Charts are shipped on Thursdays only. Please contact
[email protected]
with any questions.
Commonly referred to as the "Do Not Crush" list, healthcare professionals are alerted about medications that should not be crushed.