Handling monoclonal antibodies from Lilly and Regeneron can be confusing
 Since supply hurdles are expected with the two new monoclonal antibodies that were granted emergency use authorization (EUA) by the US Food and Drug Administration (FDA) last month (bamlanivimab and casirivimab/imdevimab), those administering these drugs may not know which will be available at any given time. So, it is important to understand the differences in how these products are prepared and stored, as it can be confusing. The products are intended for patients who test positive for coronavirus disease 2019 (COVID-19) and are at risk of progressing to serious disease and/or hospitalization. They are not for patients already hospitalized with COVID-19.
Lilly's bamlanivimab 20 mL vial must be removed from refrigeration and brought to room temperature for about 20 minutes before preparation. The Fact Sheet calls for 20 mL (700 mg) to be added to a 250 mL 0.9% sodium chloride injection bag after first removing 70 mL of saline, for a final volume of 200 mL. The bag should then be inverted gently by hand 10 times to ensure mixing. Some may have read about alternate methods of preparation. However, it is critical to always follow the instructions for preparation in the current Fact Sheet, which is continuously updated, so check for updates frequently.
The infusion is administered over a minimum of 60 minutes (200 mL/hour). If immediate administration is not possible, the diluted bamlanivimab solution can be stored for up to 24 hours at refrigerated temperature (2-8°C [36-46°F]) and up to 7 hours at room temperature (20-25°C [68-77°F]), including infusion time. After infusion, the residual medication must be flushed through the tubing with normal saline. FDA has received several reports in which this was not done, resulting in patient's not receiving up to 30 mL of a 200 mL dose.
Regeneron's product is available as a combination of two different drugs—casirivimab and imdevimab. The Fact Sheet notes that each is provided in a separate single dose vial, which must be brought to room temperature over 20 minutes before preparation. Ten mL (1,200 mg) of each drug (drawn into separate syringes) are mixed together in 250 mL of 0.9% sodium chloride after first removing 20 mL of saline from the bag.
Complicating matters is that each of the Regeneron drugs may be made available either as 4 x 2.5 mL vials or as one 11.1 mL vial. That means if the 11.1 mL vials are not available, 8 vials (4 x 2.5 mL vials of casirivimab and 4 x 2.5 mL vials of imdevimab) will be needed to mix 10 mL of each drug in the infusion bag, thus increasing error potential. It also appears that some of the vial and carton labels arriving this week do not include drug names (Figure 1) or identify the specific antibody contained within, making it difficult to ensure that both casirivimab and imdevimab are added to the saline solution in the correct amounts. These labels appear to be investigational drug labels, listing a product code number rather than a drug name. Also, the manufacturer's barcode does not distinguish between the two drugs. These interim labels will soon be replaced with improved labels. Meanwhile, pharmacy staff must look up the product code numbers in the Fact Sheet to identify these drugs and can affix barcode labels to the vials based on the National Drug Code (NDC) numbers in the Fact Sheet.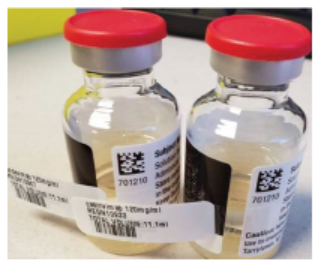 To complete preparation, the infusion bag must be inverted gently by hand 10 times to mix the solution. If immediate administration is not possible, store the diluted casirivimab and imdevimab infusion in the refrigerator between 2-8°C (36-46°F) for no more than 36 hours and at room temperature up to 25°C (77°F) for no more than 4 hours, including infusion time. As with bamlanivimab, the dose is infused over 60 minutes.
The slight differences between the drug presentations, preparation, and storage (Table 1) can cause confusion, as can the error-prone labeling; so, be aware and be prepared!
Table 1. Primary Differences Between New Monoclonal Antibodies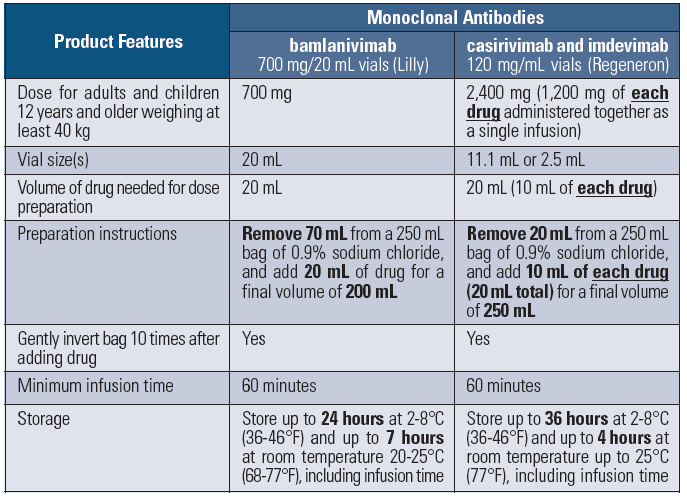 Access this Free Resource
You must be logged in to view and download this document.