MSA! Articles
FDA Advise-ERR: A New Look for Morphine Sulfate 100 mg per 5 mL (20 mg/mL) Oral Solution
In January 2010, FDA approved Morphine Sulfate Oral Solution 100 mg per 5 mL (20 mg/mL) for relief of moderate to severe acute and chronic pain in opioid-tolerant patients. The approval of this product is part of FDA's unapproved drugs initiative.1 As part of this effort, FDA is committed to being proactive to assist companies with finding opportunities to legally market products that are currently marketed without the required FDA approval. The FDA approval process ensures that marketed drugs meet current FDA standards for safety, efficacy, quality, and labeling. For many years, Roxane Laboratories (Roxane) had marketed an unapproved version of the morphine sulfate oral solution 20 mg/mL to manage pain; the newly approved product, also from Roxane, is the only morphine sulfate oral solution currently approved by the FDA at a concentration of 100 mg per 5 mL (20 mg/mL). Additionally, because this product underwent the required FDA approval process, FDA and Roxane were able to work together to improve the packaging and labeling in order to help avoid medication errors and promote the safe use of the product. 
Prior to the recent approval, Roxane marketed an unapproved morphine sulfate oral solution with the strength expressed as 20 mg/mL, using a container label and carton labeling that had brown lettering on a white background (see Figure 1). FDA and ISMP received reports of medication errors involving the labels and labeling of unapproved morphine sulfate oral solutions 20 mg/mL that resulted in serious adverse events.2-6 The design of the old label was very similar to other FDA-approved Roxane products, including other strengths of morphine sulfate oral solutions (10 mg/5 mL, and 20 mg/5 mL) (see Figure 2). Thus, the visual similarity of these products and similar expression of product concentrations often led to confusion between the different strengths of morphine products. The newly approved product labeling and packaging feature revisions intended to reduce the risk of these medication errors (see Figures 3 and 4). Additionally, the new prescribing information highlights the risk of medication errors with this product. These changes are described in more detail below.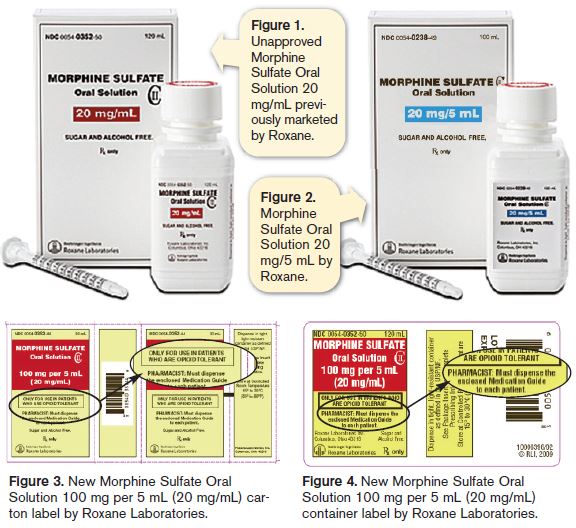 Carton, Container, and Packaging
The strength is presented as 100 mg per 5 mL followed by a less prominently displayed concentration of (20 mg/mL). The intent of this designation is to help differentiate this product from the 20 mg/5 mL morphine sulfate product.
A bright yellow background is used on multiple sides of this product to differentiate the morphine sulfate oral solution 100 mg per 5 mL (20 mg/mL) from other morphine sulfate oral solutions marketed by Roxane with a white background.
The drug name, strength, and concentration are displayed in white lettering on a red background as an additional means of differentiating this product from other concentrations of morphine sulfate oral solutions.
A warning stating "ONLY FOR USE IN PATIENTS WHO ARE OPIOID TOLERANT" is displayed in a box to highlight that the morphine sulfate oral solution 100 mg per 5 mL (20 mg/mL) is indicated for use in opioid-tolerant patients only. The 100 mg per 5 mL concentration of morphine sulfate may cause fatal respiratory depression when administered to patients not previously exposed to opioids.
A reminder is presented to the pharmacist to dispense the product to each patient with the enclosed Medication Guide.
Both the 30 mL and 120 mL bottles of morphine sulfate 100 mg per 5 mL (20 mg/mL) oral solution are packaged with a calibrated oral syringe to provide accurate dose measurements. 
Prescribing Information
The prescribing information for this new product contains a boxed warning for risk of medication errors, where confusion between different concentrations and between "mg" and "mL" has resulted in accidental overdoses and deaths.
The risk of medication errors are also described in the "Indications and Usage," "Dosage and Administration," and "Warnings and Precautions" sections of the prescribing information.
A Medication Guide for the new product will be enclosed in the carton. This Medication Guide provides step-by-step directions and a pictogram to instruct patients on how to measure an accurate dose using the oral syringe as well as information pertaining to the associated risks of this medication, such as death from an overdose. Look for the new labeling and packaging soon! ISMP thanks Roxane and FDA for these changes, which we agree will help reduce the risk of confusion between the different strengths of morphine sulfate oral solution.
FDA Advise-ERR was provided by the FDA Office of Surveillance and Epidemiology, Division of Medication Error Prevention and Analysis, in cooperation with ISMP.
References:
US Food and Drug Administration. Unapproved drugs: drugs marketed in the United States that do not have required FDA approval.
ISMP. Safety briefs. ISMP Medication Safety Alert! 2001; 6(19):2.
ISMP. Morphine concentrate in plastic ampuls. ISMP Medication Safety Alert! 2006;11(8):1.
ISMP. High-alert medication feature: reducing patient harm from opiates. ISMP Medication Safety Alert! 2007;12(4):1-2.
ISMP. Oral morphine alert. ISMP Medication Safety Alert! 2003;8(22):3.
ISMP. Action may be necessary to prevent confusion between Roxane's oral liquid opiate products. ISMP Medication Safety Alert! 1998; 1(25):1.
More MSA! Articles
Since 1994, when ISMP first became the nation's only nonprofit organization devoted entirely to preventing medication errors, we have served as a vital force for progress in medication safety through our unyielding advocacy and the development of resources and learning opportunities for healthcare...
The latest issue of ISMP's Quarter Watch™ (see description in box below) focuses on two older but widely used analogs of the inhibitory gamma-aminobutyric acid (GABA) neurotransmitter and a new type of antipsychotic medication approved for Parkinson's disease psychosis. Key findings include:...
Since January 2019, ISMP has learned about 4 children who received vin CRIS tine erroneously by the intrathecal route of administration, each suffering a very painful death. Three of the children were from Guyana, and one was from Norway. The child from Norway had a brain tumor and was just 6 years...