FDA Advise-ERR: Mefloquine-Not the same as Malarone!
Problem: The US Food and Drug Administration (FDA) and ISMP have received reports that describe errors associated with the wrong frequency of administration with mefloquine as well as wrong drug errors in which mefloquine was dispensed instead of the intended MALARONE (atovaquone/proguanil). Both mefloquine (previously marketed as LARIAM*) and Malarone are FDA approved for use in the treatment and prophylaxis of malaria, but they each have different dosing regimens (Table 1).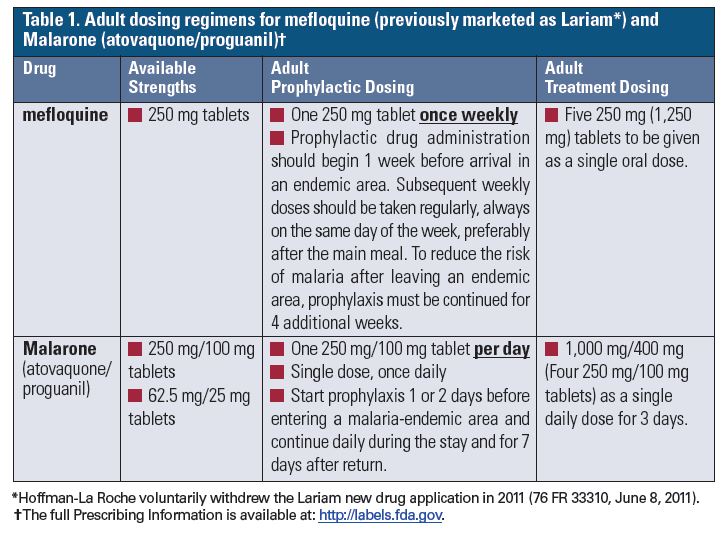 One report described two patients for whom mefloquine 250 mg was prescribed to be taken daily instead of weekly for malaria prophylaxis. After taking mefloquine daily for 11 days, both patients experienced a "cloudy head," dizziness, nausea, and vomiting that persisted for more than 10 days after mefloquine was stopped. 
Three reports described prescriptions written for Malarone, but the pharmacy mistakenly dispensed mefloquine. The first patient, an 18-year-old man, took 4 tablets (1 g) of mefloquine daily for 2 to 3 days instead of the prescribed Malarone and developed a headache, nausea, vomiting, and confusion. In the other two events, the dispensing error was caught by the patients prior to taking the incorrect medication. 
Although most of the reports did not state a reason why these errors occurred, knowledge deficits may have contributed to the mix-ups. One report stated that the incorrect substitution was performed because the pharmacist thought mefloquine was the generic of Malarone. Healthcare providers may be unfamiliar with antimalarial products due to infrequent use. Further, mefloquine and Malarone have overlapping tablet strengths and similar approved uses as antimalarial products, making confusion more likely.
Mistakenly believing that mefloquine and Malarone are the same or that they have the same dosing regimen for antimalarial prophylaxis and treatment may lead to serious adverse events including vomiting, syncope, QT prolongation, paranoia, anxiety, depression, or inadequate prophylaxis.
Safe Practice Recommendations: Healthcare providers should consider the following recommendations to reduce the risk of errors.
Include brand and generic name. Prescribe Malarone using both the brand and generic names, Malarone (atovaquone/proguanil), to provide redundancy and greater differentiation from mefloquine.
Include the indication on the prescription. Prescribers should indicate whether the prescription or order is for prophylaxis or treatment of malaria.
Verify every order. Verify prescriptions for antimalarial prophylaxis and treatment, which may not be commonly dispensed. This includes confirmation of the drug, frequency of administration, and dosing regimen of Malarone or mefloquine with each order or prescription.
Set frequency limits. In order entry systems, establish an alert that will appear if mefloquine is prescribed daily and if Malarone is prescribed weekly.
Provide counseling. Counsel all patients prescribed antimalarial products regarding its purpose (prophylaxis or treatment) and directions for use. Advise patients to read the Medication Guide when dispensing mefloquine, and to call their healthcare provider if they have any questions.
FDA Advise-ERR was provided by Jacqueline Sheppard, PharmD, and Vicky Borders-Hemphill, PharmD, from the FDA's Office of Surveillance and Epidemiology, Division of Medication Error Prevention and Analysis.