MSA! Articles
FDA Advise-ERR: Concomitant use of Entresto and ACE inhibitors Can Lead to Serious Outcomes
PROBLEM: ENTRESTO (sacubitril/valsartan) is an angiotensin II receptor-neprilysin inhibitor (ARNI) used to reduce the risk of cardiovascular death and hospitalization in patients with chronic heart failure and reduced ejection fraction. It contains the angiotensin II receptor blocker (ARB) valsartan and the neprilysin inhibitor sacubitril. Entresto is contraindicated with concomitant use of angiotensin converting enzyme (ACE) inhibitors because the inhibition of neprilysin from the sacubitril component in Entresto combined with an ACE inhibitor increases the risk of angioedema.1 Also, the dual renin-angiotensin-aldosterone system blockade that occurs when valsartan is combined with ACE inhibitors increases the risk of hypotension, acute kidney injury, and hyperkalemia. Thus, Entresto should not be administered within 36 hours of switching from or to an ACE inhibitor. Still, the US Food and Drug Administration (FDA) has received 55 cases reporting concomitant use of Entresto and an ACE inhibitor, with several cases describing serious outcomes.
The cases submitted to FDA describe patients who were taking an ACE inhibitor and were prescribed Entresto, and patients who started taking Entresto in the hospital and inadvertently restarted their ACE inhibitor after discharge. Several cases described a washout period of less than 36 hours when switching from an ACE inhibitor to Entresto. Eleven patients were hospitalized. The most common adverse events reported due to this drug interaction were angioedema, hyperkalemia, acute kidney injury, and hypotension.
Entresto is used to lessen morbidity and mortality, and replaces an ACE inhibitor or ARB in patients with chronic symptomatic heart failure (NYHA class II or III) with a reduced ejection fraction (HFrEF) who tolerate an ACE inhibitor or ARB.2 Due to the previous standard of care, many patients starting Entresto are already taking ACE inhibitors. This could lead to serious adverse events if the ACE inhibitor is not discontinued, or if the patient continues taking the previously prescribed ACE inhibitor at home. These errors may be related to the lack of familiarity with Entresto. But since approval in 2015, the drug's use has increased. It was added in the updated 2016 heart failure guidelines published by the American College of Cardiology (ACC), the American Heart Association (AHA), and the Heart Failure Society of America (HFSA).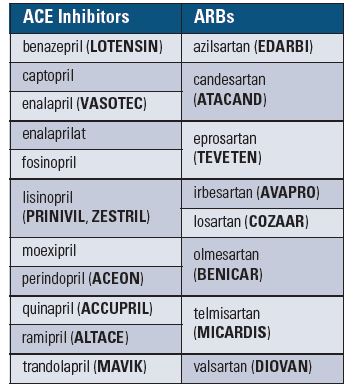 The new guidelines recommend either an ACE inhibitor, an ARB, oran ARNI (e.g., Entresto) for patients with chronic HFrEF, but not in combination (Table 1, prepared by ISMP).
SAFE PRACTICE RECOMMENDATIONS: Please consider the recommendations below to help prevent the concomitant use of Entresto and ACE inhibitors.
For Prescribers, Pharmacists, and Nurses:
Prior to prescribing Entresto, ensure that patients are not already taking an ACE inhibitor. For patients taking an ACE inhibitor, ensure that it is stopped and allow for a 36-hour washout period prior to starting Entresto.
Work with information technology (IT) staff to create and/or enable order entry system alerts to warn against the concomitant use of Entresto and ACE inhibitors when both of these drugs have been prescribed for the patient. If possible, configure the alert to continue for 36 hours after Entresto or the ACE inhibitor has been discontinued.
Before dispensing or administering Entresto, review patients' medication regimens. If ACE inhibitors are listed, ensure that patients have discontinued the ACE inhibitor and wait 36 hours before starting Entresto.
Educate patients about the importance of not taking Entresto and ACE inhibitors together.
Conduct a thorough medication reconciliation (on admission and at discharge) to ensure that patients who are prescribed Entresto, but were taking an ACE inhibitor or ARB in the past, do not restart it upon discharge from the hospital.
For Insurers:
Create alerts to warn against the concomitant use of Entresto and ACE inhibitors when claims are submitted for both drugs.
ISMP thanks Ashleigh Lowery, PharmD, BCCCP, and Alice Tu, PharmD, BCPS at the US Food and Drug Administration (FDA) Division of Medication Error Prevention and Analysis, for providing this article.
---
References
Entresto [package insert]. Novartis Pharmaceuticals Corporation. East Hanover, NJ; Aug 2015. 
Yancy CW, Jessup M, Bozkurt B, et al. 2016 ACC/AHA/HFSA focused update on new pharmacological therapy for heart failure: an update of the 2013 ACCF/AHA Guideline for the Management of Heart Failure: a report of the American College of Cardiology/American Heart Association Task Force on Clinical Practice Guidelines, and the Heart Failure Society of America. Circulation. 2016;134(13):e282-93.
More MSA! Articles
VOLUME 23, ISSUE 12 Vaccine errors threaten to undermine the protection immunizations provide and often leave patients inadequately protected against serious diseases
Hospira, a Pfizer company, released a letter last week, in coordination with the US Food and Drug Administration (FDA), detailing instructions for handling certain drugs and lot numbers of CARPUJECT glass syringes that may have cracked needle hubs and/or contain particulate matter. The list includes...
Problem: Earlier this month, ISMP held its second national summit on smart infusion pumps. The first summit, held in 2008, examined smart pump implementation, drug libraries, and clinical practice, and resulted in publication of the ISMP Guidelines for Safe Implementation and Use of Smart Infusion...