Explore Our Updated ConsumerMedSafety.org Website
We are delighted to announce the official launch of our newly updated consumer website, ConsumerMedSafety.org. In 2009, we initially launched ConsumerMedSafety.org as the only website designed by a nonprofit organization exclusively to bring the message of medication error prevention directly to the consumer. Our updated website (Figure 1) demonstrates our commitment to providing the most up-to-date information about medication safety to consumers in a way that is easy to navigate.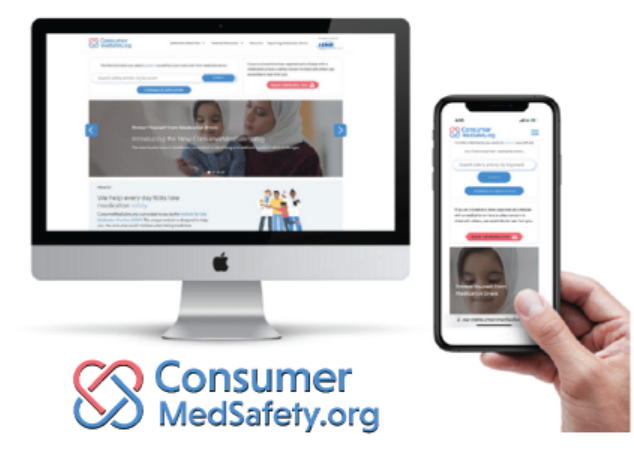 ConsumerMedSafety.org has a newly branded logo (Figure 1). The updated website has a modern and clean look, and it remains advertisement free. Consumers can easily access, view, and use the website, which includes the following key features:  
Scrolling marquee. The first feature that consumers will notice on the website is a scrolling marquee. The scrolling marquee provides vital and newly posted content, including the latest medication safety warnings and advice from experts. Current examples include a feature on how to avoid confusing "concentrated ibuprofen infant drops" with "children's ibuprofen," and a warning for consumers to use caution when taking medications that are packaged with desiccants.
Search feature. Consumers can use the search feature, located directly above the scrolling marquee, to find medication safety articles by entering a keyword. A robust search engine drives the search function to help consumers easily locate safety topics of interest. Consumers can also click the "browse all safety articles" button to scroll through hundreds of medication safety topics and breaking news about medication safety-related issues. Current examples include preventing mistakes with your pet's medications, tips for starting and stopping antidepressants safely, and clues that a pharmacist has forgotten to reconstitute a powdered medication.
Error-reporting feature. We invite consumers to share their stories about errors or other medication safety issues by clicking on the red button that says, Report a Medication Error. This button is prominently located above the scrolling marquee, and Reporting Medication Errors is also in the toolbar at the top of the webpage. Clicking the red button or top-screen navigation tool takes consumers to a webpage that describes the importance of reporting medication errors and walks them through a user-friendly online reporting form. Or, consumers can always submit a report by calling ISMP directly at 215-947-7797. When consumers report errors to ISMP, it allows us to identify ways to improve medication safety. Staff at ISMP review all error reports and inform the US Food and Drug Administration (FDA) of the error. Additionally, ISMP notifies drug companies when the medication labeling or packaging requires changes. However, we keep all information about the consumer and the location where the event occurred confidential. We may then share some errors as anonymous stories in our newsletters, on our ConsumerMedSafety.org website, and/or on our professional website (www.ismp.org). These error examples often contain recommendations to prevent medication errors for consumers, healthcare providers, regulators, standards organizations, and drug companies.
Medication Safety Tips. In the toolbar at the top of the website, the first navigation drop-down menu, Medication Safety Tips (Figure 2), includes three sections: Safety with Medicines, Safety by Location, and Safety by Population. Each section features articles and/or tools that are specific for certain topics or situations. For example, under the Safety with Medicines section, consumers will find teaching brochures on various high-alert medications, as well as safety information on over-the-counter (OTC) medications, vaccines, medication patches, and eye and ear drops. The Safety by Location section provides safety tips that are useful while consumers are at home or at the hospital, doctor's office, pharmacy, school, or on the go (traveling). Finally, the Safety by Population provides safety tips for various age groups, such as older adults, infants and children, and even has information about medication safety with pets.


Featured Resources. In the toolbar at the top of the website, the next navigation button, Featured Resources (Figure 3), has a drop-down menu that lists six sections: 
The Insulin Safety Center provides tips for preventing mistakes with insulin, a high-alert medication frequently involved in harmful errors. This section offers consumers basic information about insulin, the typical errors that happen when using insulin, and the steps to prevent these errors. For example, this section provides detailed safety tips for using an insulin pen correctly.
The Over-The-Counter (OTC) Medicines section is where consumers can navigate through 10 different topics related to medications that can be purchased without a prescription. In this section, consumers can find important safety tips about OTC medications, including medication storage and disposal; drug interactions, reactions, and allergies; multi-symptom and combination products; medications for children; measuring the dose of liquid medications; herbals, vitamins, and homeopathic products; OTC pain relievers; and OTC drug abuse.
The section called Top 10 Tips Lists features various medication safety lists. For example, one list describes the Top 10 Steps Parents Should Take to Prevent Medicine Mishaps when giving a child medicine. Other examples include the Top 10 Reasons to Suspect a Pharmacy Error; the Top 10 Ways to Prevent Drug Name Mix-ups; the top 10 safety tips when using medicines that are applied to the skin, when traveling with medicines, and when measuring liquid medicine doses; the Top 10 Over-The-Counter Medicines Abused by Teens; and much more.
FDA Alerts is a special section dedicated to delivering the latest updates on medications and products regulated by FDA, such as "Do not make or feed homemade infant formula to babies." This section also provides links to information on recent drug recalls, drug shortages, and Medication Guides.
The Additional Resources section features specific topics related to general safety with medications. Here consumers can find information about how to read a prescription, keeping track of home medications, preparing for a disaster, how to measure liquid medications, a list of medications not to crush or chew, and much more.
The General Medication Safety section provides general advice, such as what consumers can do to prevent medication errors at home, while in the hospital, and while at an appointment with your doctor. This resource is also available in a PDF format to print.
The website also includes information about ISMP and our mission, and why consumers can trust the information on ConsumerMedSafety.org.
Learning about safe medication practices and being involved in care decisions is an excellent way for consumers to help prevent a medication error from happening. We hope hospitals and health systems will share ConsumerMedSafety.org with their staff and patients, and help distribute this valuable medication safety information. If your organization would like to link to ConsumerMedSafety.org on your website, please go ahead and do so! Placement on the patient-facing portal section of your site is an ideal location for this information. Also, please consider making a charitable donation to ISMP (www.ismp.org/support/donate). With your help, we will be able to continue our work to keep consumers safe and to lead efforts to improve the medication-use process.
Suggested citation:
Institute for Safe Medication Practices (ISMP). Explore our updated consumermedsafety.org website. ISMP Medication Safety Alert! Acute Care. 2022;27(18):1-3.
Access this Free Resource
You must be logged in to view and download this document.