Cisatracurium Mislabeling Incident Calls for More Efficient Ways to Alert the Field
A recent recall of Meitheal Pharmaceuticals' cisatracurium vials mislabeled as phenylephrine took almost a week from when the problem was first noticed until recall notices from the US Food and Drug Administration (FDA) and the manufacturer began appearing in email inboxes nationally. A pharmacist from MercyOne Siouxland Medical Center in Sioux City, Iowa, first discovered the mislabeled vials on January 24, 2021. She found 5 cartons out of 22, all with the same C11507A lot number, that were labeled cisatracurium 10 mg/5 mL but actually contained vials labeled phenylephrine 100 mg/10 mL (Figure 1). The "phenylephrine" vials had light blue caps with "Warning: Paralyzing Agent" printed on them, while the other cartons contained vials labeled as cisatracurium with the same light blue caps. That led the pharmacist to suspect the phenylephrine vials were mislabeled. Although it was a Sunday, she immediately alerted the FDA via a 24-hour emergency number (1-866-300-4374) but was advised to call a regional office, where she had to leave a voicemail message. She attempted to contact Meitheal, but the company had no call center, voicemail, or email system that was operational on Sunday. The pharmacist also tried to alert the hospital's distributor, AmerisourceBergen, but again, the distributor did not have voicemail operational on Sunday, so the pharmacist sent an email message instead (which was returned more than a week later).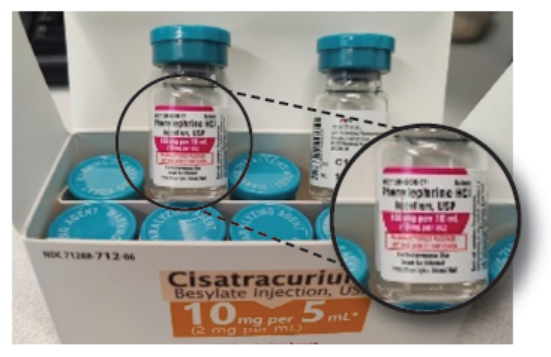 The pharmacist called Meitheal again on Monday morning, left a message on voicemail, and received a return phone call later that afternoon. During that call, the pharmacist was surprised to learn from Meitheal that she was not the first person who had found what appeared to be mislabeled vials. Meitheal told the pharmacist that another hospital had notified the manufacturer about the same problem 3 days earlier on Friday, January 22, 2021. A pharmacy manager at MercyOne Siouxland submitted an error report to ISMP and FDA on late Monday afternoon. ISMP processed the error the following morning on Tuesday, bringing it to the attention of ISMP staff. The medication safety officer at Mount Carmel Health System in Columbus, Ohio, also alerted us to the hazard that day through a posting on the Medication Safety Officers Society website, which ISMP operates. 
This situation was exceptionally concerning. If a patient who was not intubated required phenylephrine and received cisatracurium due to the mislabeling, the consequences would be severe. Due to a high risk for a harmful outcome, ISMP decided to issue a national alert on Tuesday evening, January 26, 2021, rather than wait for that week's ISMP Medication Safety Alert! publication or take additional time to activate the National Alert Network (NAN) Alert in cooperation with the American Society of Health-System Pharmacists (ASHP). ISMP also contacted FDA and confirmed that the event had been reported to the recall office. When we tried to contact Meitheal, no one answered the phone and a voicemail message was left. The call was returned the following day.
Unfortunately, recall alerts from FDA and Meitheal did not reach our email until Thursday, January 28, 2021, nearly a week after the mix-up was first reported to the manufacturer.  And the alerts were confusing, detailing not only what could happen if a patient accidentally received cisatracurium, but also what could happen if a patient received phenylephrine when cisatracurium was needed. This could have led to a misunderstanding that phenylephrine, rather than cisatracurium, was in the vials.  
As far as we know, no adverse outcomes resulted from the mislabeled vials. However, this event calls for improvement in how urgent events are communicated so they can lead to more timely recall notices and follow-up. Pharmaceutical companies should be required to maintain emergency phone numbers that reach an on-call person or answering service that can quickly relay messages. Also, the company should react to urgent situations quickly—depending on severity, even within 24 hours, including on weekends. While an investigation takes time, an emergency notification may be in order. In this case, a week's delay could have easily resulted in patient deaths. We wonder if there have been other serious events that took almost a week before FDA and the manufacturer issued an alert.
Access this Free Resource
You must be logged in to view and download this document.