California Medication Error Reduction Plan: Time for Regulators and Accreditors to Adopt Similar Initiatives
ISMP has always been an advocate for learning from the experiences of others—taking certain aspects of another's experience and incorporating it into your own work and life for the purpose of improvement. It is in this spirit of learning that we again share with readers our support of a 20-year statewide initiative in California (CA) to reduce medication-related errors, which we hope hospital regulators and accreditors, if not US hospitals themselves, will adopt. Since 2002, the California Department of Public Health (CDPH) has required every licensed general, acute care hospital in CA to establish a Medication Error Reduction Plan (MERP), referred to as the CA MERP. CDPH defines a medication-related error as any preventable medication-related event that adversely affects a patient and is related to professional practice, healthcare products, and organizational procedures and systems.
The CA MERP was developed under the leadership of Loriann De Martini, PharmD, MPH, BCGP, while serving as deputy director of the Office of Quality Performance and Accreditation at CDPH, and who is now the Chief Executive Officer of the California Society of Health-System Pharmacists (CSHP). When recently asked about the success of the program, Dr. De Martini said, "Enactment of a CA statute requiring hospitals to proactively identify and implement methodologies to reduce the occurrence of medication errors has exponentially accelerated medication safety efforts in our state for our over 400 hospitals. All have benefited from these efforts, [including] patients and healthcare professionals, by reducing harm and improving the quality of care provided." While we recognize that significant resources and expertise are necessary to design and execute a robust MERP, such an effort can significantly improve patient safety.
CA MERP Regulatory Requirements
The CA MERP requires each hospital to adopt a methodology to assess, improve, and evaluate medication safety. Table 1 provides details regarding the required components in each hospital's CA MERP, along with examples of self-assessment questions. An impactful MERP should focus on high-leverage systems and technologies to improve high-alert medication processes. Each initiative in the MERP should include the rationale for selection, a plan to measure effectiveness and outcomes, as well as follow-up steps.
Table 1. CA MERP Requirements and Examples of Self-Assessment Questions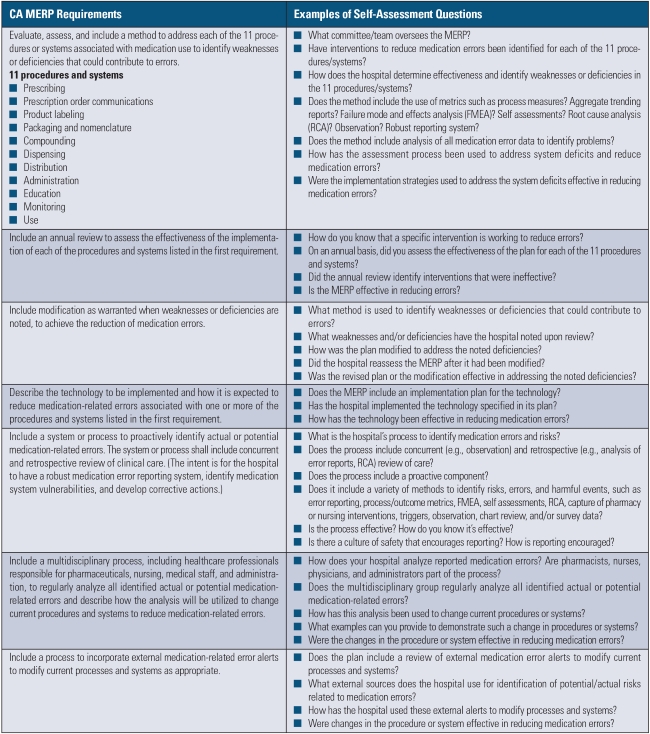 Sources: Chapter 2.05 Minimization of Medication-Related Errors in the California Health and Safety Code Section 1339.63; All Facility Letter from CDPH issued on August 10, 2009; All Facility Letter from CDPH issued on December 9, 2008; General Acute Care Hospital Relicensing Survey, Regulations with Survey Procedures revised March 2016.
Interdisciplinary Oversight
To oversee the CA MERP, each organization must designate an interdisciplinary medication safety committee comprised of pharmacists, nurses, physicians, and administrators. Other members may include respiratory therapists, safety/quality/risk management staff, educators, and informatics staff. Coordination of the committee's activities by a medication safety officer (MSO) is highly recommended. The committee must conduct a timely review of all medication-related errors submitted, including those that caused harm or have the potential to cause harm, and evaluate for actionable improvements, be empowered to make necessary changes to procedures and systems, and share the lessons learned and actions taken with frontline staff and leadership.
Learning from External Reports
Another essential feature of the CA MERP requires establishing a process to incorporate and learn from external medication-related error alerts, and to take action to modify current processes and systems as needed to reduce the risk of similar errors internally. Organizations should be proactive in ensuring system safety and not wait until a tragic event happens to make changes. No news is not good news when it comes to patient safety. The CA regulation suggests that each organization needs to accurately assess how susceptible its systems are to the same errors that have happened in other organizations, and to acknowledge that the absence of similar errors is not evidence of safety.
Personal experience is a powerful teacher, but the price is too high to learn all we need to know from firsthand experiences. Learning from the mistakes of others is imperative, and ISMP is especially supportive and pleased that CA requires this component in its MERP regulations. Not learning from the mistakes of others serves as an existential risk to patient safety, yet its importance is almost universally overlooked by federal and state regulators and accreditors.
To include a review of external medication-related error alerts, we recommend identifying individuals, such as the MSO or members of the interdisciplinary medication safety committee, to regularly read various resources, including the following:
Those individuals should be assigned to compile external alerts and bring them to the interdisciplinary medication safety committee to proactively review and identify issues that are pertinent to their organization so changes can be implemented prior to an event occurring. Organizations may also choose to collaborate with a Patient Safety Organization (PSO) to share adverse drug events or hazards and learn from other organizations.
Procedures and Systems
Below are examples of initiatives organizations might implement across the 11 MERP procedures and systems. Organizations should define/set goals to achieve based on measurable data (e.g., a 25% reduction).
Prescribing
Reduce clinically insignificant computer alerts

Verify and document a patient's opioid status (naïve versus tolerant) and type of pain (acute versus chronic) before prescribing extended-release and long-acting opioids

Create and/or measure compliance with anticoagulant order sets and the appropriate use of reversal agents
Prescription order communications
Reduce the number of parenteral nutrition (PN) transcription errors

Reduce the number of verbal orders
Product labeling
Use tall man (mixed case) letters on storage location (e.g., medication bins) labels

Along with the full generic vaccine names and Centers for Disease Control and Prevention (CDC) standard abbreviation for vaccines, list vaccine brand names on computer-generated labels
Packaging and nomenclature
Implement a process and track compliance with the timely addition and testing of new formulary medication barcodes
Compounding
Assess compliance with the use of intravenous (IV) and/or oral liquid extemporaneously compounded master formulation records

Track progress with implementation of USP General Chapter <800> Hazardous Drugs – Handling in Healthcare Settings requirements
Dispensing
Use chart review to detect dispensing errors with high-alert medications (e.g., opioids, anticoagulants, chemotherapy, PN) and implement action plans to reduce errors
Distribution
Reduce medication delays by refilling a sufficient quantity of medication in the automated dispensing cabinet (ADC)

Improve barcode scanning compliance when refilling the ADC
Administration
Increase smart pump dose error-reduction system (DERS) usage to greater than 95% (based on Best Practice #8) for applicable medications and infusions

Expand barcode medication administration verification to outpatient care areas (e.g., emergency department, infusion center), achieving compliance with use of the technology

Reduce ADC overrides for non-emergent high-alert medications
Education
Provide discharge education for patients discharged home on anticoagulants

Complete medication safety competency assessments during new staff orientation
Monitoring
Implement capnography or end-tidal (exhaled) carbon dioxide monitoring for patients receiving IV or epidural patient-controlled analgesia (PCA)

Document pain scores before and after administration of pain medications
Use
Complete a medication-use evaluation (MUE) on a high-alert medication or a new formulary medication
Reporting Hazards and Errors
Prescribers, nurses, pharmacists, respiratory therapists, and other healthcare practitioners who identify medication-related hazards or errors must report them internally through the organizational reporting program. If you have an electronic error reporting system, consider configuring it with events categorized into the 11 CA MERP procedures and systems to trend the data and provide visibility to specific event types that require improvement. Assign each hazard or error reported to a responsible department leader for review and follow-up. Although not required by CA regulations, we hope hospitals will consider reporting medication hazards and errors (including harmful and potentially harmful events) to ISMP so we can alert the entire healthcare community about the risk. Besides voluntary reporting, consider reviewing medication-related triggers and markers (e.g., use of reversal agents) to identify risks or errors.
Annual Review of the MERP
In CA, regulations require hospitals to conduct an annual review of the MERP to assess its effectiveness. The interdisciplinary medication safety committee should direct this process, summarize all activities in the MERP, and add newly identified strategies during the year. If an outcome does not meet the goal defined in the selected metrics, discuss this during the annual review and decide if the initiative is still feasible, if it will require additional resources, or if the plan requires modification.
MERP in Other States
We were pleased to see that the Arkansas (AR) State Board of Pharmacy followed California's lead and, as of 2014, hospital pharmacy regulations require the pharmacy and therapeutics committee to perform the following functions: Develop and routinely evaluate a hospital-wide MERP to identify actual or potential medication-related errors and perform a concurrent and retrospective review of clinical care. The MERP should address the areas of prescribing, prescription order communication, product labeling, product packaging and nomenclature, compounding, dispensing, distribution, administration, education, monitoring, and use. This language is directly from the CA statute that formed the requirements for the CA MERP.
Conclusion
The CA MERP initiative provides a framework to advance many of the error-reduction strategies that we have advocated and supported over the years, including:
Maintaining a robust medication error reporting system

Interdisciplinary teams analyzing medication risks and errors

Carefully planned technology implementation

Effective and timely use of measurable assessments to evaluate the impact of selective error-reduction strategies

A proactive approach to risk identification analysis

Use of external information to improve medication safety

Annual review of the strategic plan to reduce medication errors
For those working outside CA and AR, we encourage you to complete a gap analysis using the CA MERP framework (Table 1) and to develop a formal MERP. For those working in CA and AR, please be on the lookout for a survey that ISMP and CSHP are planning to conduct early in 2023 to help measure the effectiveness of the MERP and to better understand how the program has impacted medication safety.
Suggested citation:
Institute for Safe Medication Practices (ISMP). California Medication Error Reduction Plan: time for regulators and accreditors to adopt similar initiatives. ISMP Medication Safety Alert! Acute Care. 2022;27(22):1-5.
Access this Free Resource
You must be logged in to view and download this document.