Adult and Pediatric Coronavirus Disease 2019 (COVID-19) Vaccine Mix-Ups are Predictable
The US Food and Drug Administration (FDA) authorized emergency use of the Pfizer-BioNTech coronavirus disease 2019 (COVID-19) vaccine for children ages 5 through 11 years on October 29, 2021, and as of November 2, 2021, the Centers for Disease Control and Prevention (CDC) now recommends vaccination in children ages 5 through 11 years. This allows for the immediate distribution of the pediatric vaccine to physician offices, pharmacies, and clinics, so vaccinations can begin this week. Based on previous mix-ups at locations where the influenza (flu) vaccine and COVID-19 vaccines are both being administered, ISMP is concerned about the potential for similar mix-ups between the pediatric and adult formulations of the COVID-19 vaccine since both will be available in most vaccination sites. Unfortunately, age-related errors have been linked to more than 1 in 3 vaccine errors reported to the ISMP National Vaccine Errors Reporting Program (VERP).
According to the Fact Sheet for the 2-dose vaccine series for children ages 5 through 11 years, the pediatric formulation (10 mcg per 0.2 mL after dilution) will be supplied in a multiple-dose vial with an orange border on the label and an orange cap. The pediatric formulation must be diluted with 1.3 mL of 0.9% sodium chloride prior to use, to prepare 10 doses of 0.2 mL (10 mcg). The label states: "Age 5y to < 12y" (Figure 1), but this is not as prominent as "DILUTE PRIOR TO USE" and could be missed. Surprisingly, the dose in mcg is not listed on the label, which would have been helpful in differentiating this product from the 30 mcg/0.3 mL formulations for patients 12 years and older. ISMP believes FDA should require this information on the label.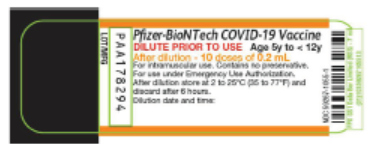 The adult formulation vial has a purple cap, while the pediatric formulation has an orange cap. While different color caps might help prevent some mix-ups, once the cap is removed and discarded, doses may be prepared one at a time rather than all at once, which will render the cap color irrelevant. Also, it is unlikely that the vial will accompany prepared syringes, so the vial label cannot be verified by those administering the vaccine or parents/patients receiving the vaccine.
Previous experience with vials available for pediatric and adult hepatitis A and hepatitis B vaccines has demonstrated that different color caps and labels may not prevent errors. For example, the hepatitis A vaccine, VAQTA by Merck (and HAVRIX by GlaxoSmithKline, not pictured), are available in single-dose containers in pediatric/adolescent (0.5 mL) and adult (1 mL) formulations. While the adult and pediatric/adolescent Vaqta syringes have different color plungers and the vials have different color caps and bands on the label (Figure 2), mix-ups do still occur. The media has also reported that some parents with 5- through 11-year-old children have expressed vaccine hesitancy, especially after hearing about some vaccine errors. We certainly do not want mix-ups between the pediatric and adult COVID-19 vaccine formulations to raise these concerns even more.

If clinics, physician practices, and/or pharmacies in your health system will be administering adult and pediatric COVID-19 vaccines, develop a plan for segregating and storing these in refrigerators and freezers that are organized and properly labeled. Store the adult (12 years and older) and pediatric COVID-19 vaccines apart from one another, such as in separate labeled plastic bins. During the production and/or verification phase of the dispensing process, use barcode scanning whenever possible to verify that the correct product has been retrieved. Make it a policy to clearly label all individual syringes containing vaccines. To facilitate proper labeling, print labels for each patient or provide vaccine preparers with strips of preprinted labels that differentiate adult and pediatric doses. Ideally, prior to administration, barcode scanning should again confirm the correct vaccine.
Also, as we recommended for preventing errors between the flu vaccine and COVID-19 vaccines, only bring the intended and labeled vaccine syringe(s) for one patient into the vaccination area at a time. Involve the parent or patient in verifying the vaccine by reading the label to confirm the correct vaccine. Document the lot number and date of manufacture prior to vaccine administration, and document administration afterwards in the patient's profile, on vaccination records, and via state or other immunization registries. Report all vaccine errors internally as well as to the FDA/CDC Vaccine Adverse Event Reporting System (VAERS), which is mandatory for COVID-19 vaccine errors under an Emergency Use Authorization (EUA). ISMP also asks providers to report vaccine errors to the ISMP VERP. Additional vaccine information can be found here.
Access this Free Resource
You must be logged in to view and download this document.