Annual Report Issue - June 2016
In this annual report issue of QuarterWatch™ we outline both positive and negative changes in 2015 with significant implications for patient safety. The year marked the rapid uptake of a new class of diabetes drugs, called sodium glucose cotransporter 2 (SGLT2) inhibitors, which have unproven clinical benefits and a growing number of safety problems. Use of oral anticoagulants–the highest risk outpatient drug treatment in older patients–increased as novel oral anticoagulants (NOACs) in part replaced the traditional warfarin and also expanded the patient population. In addition, we identified both positive and negative trends in utilization of opioids and sleep medications, and also report on the drugs that accounted for the most adverse event reports in four monitoring categories.
The 9.9% increase in serious injuries reported in the United States (Table 1)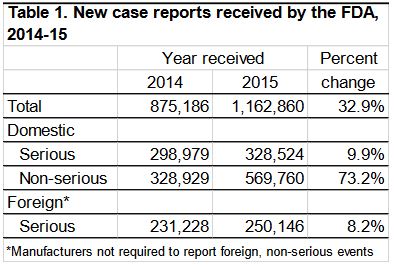 in 2015 provides a more realistic but still approximate measure of the trend in harms from the therapeutic use of prescription drugs. Reported serious injuries are increasing because of growing use of drugs with many toxic effects. The introduction of new classes of drugs that move into widespread clinical use also boosted event totals. Increased marketing of brand name drugs can also increase reports because to sell more drugs the manufacturers come into more frequent contact with prescribing physicians and individual patients, and therefore learn more about harms. 
---
QuarterWatch™ is an independent publication of the Institute for Safe Medication Practices (ISMP). We analyze computer excerpts from the US Food and Drug Administration (FDA) Adverse Event Reporting System (FAERS). These reports (best known as MedWatch reports) are a cornerstone of the nation's system for monitoring the safety of prescription drugs after FDA marketing approval.  We also receive dispensed outpatient prescription data from IMS Health Inc
Access this Free Resource
You must be logged in to view and download this document.