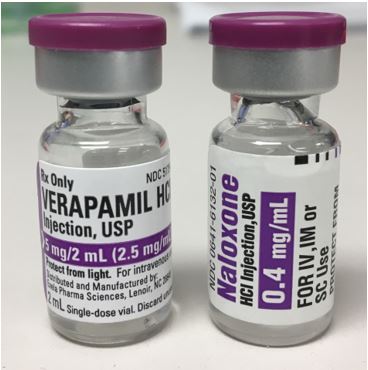 Imagine giving the opioid antagonist naloxone in error to someone with severe pain who is receiving morphine via patient controlled analgesia. That risk exists in hospitals that stock verapamil injection 5 mg per 2 mL vials manufactured by Exela Pharma Sciences and naloxone injection 0.4 mg per mL vials by West-Ward Pharmaceuticals. The vials use the same colors for the caps and container labels. The vials are also the same size and shape. Variation in the orientation of the printing on the labels may help differentiate them. Still, these vials look similar enough to create risk of mix-ups. We recommend hospitals purchase one or the other from a different manufacturer.
More Alerts
FDA alerts patients and health care professionals that some EpiPen auto-injectors may not readily slide out of carrier tube
Although medications commercially available in oral solid dosage forms are suitable for most patients, there are populations and circumstances that require splitting tablets, crushing tablets, or opening capsules. Inappropriately altering tablets and capsules can result in treatment failure and
If you are using NUCALA (mepolizumab) for patients who have eosinophilic asthma, please check to ensure the correct volume is being dispensed. Some healthcare practitioners have been confused by the vial labeling.