SMOFLIPID 20% lipid injectable emulsion (relatively new to the US market) from Fresenius Kabi (100 mL, 250 mL, and 500 mL) is a four-oil intravenous (IV) lipid emulsion for adult patients. Smoflipid contains soybean oil, medium chain triglycerides, olive oil, and fish oil. We've received complaints about the similarity in appearance of Smoflipid 20% and INTRALIPID 20%, also a Fresenius Kabi product, which contains only soybean oil (Figure 1). ​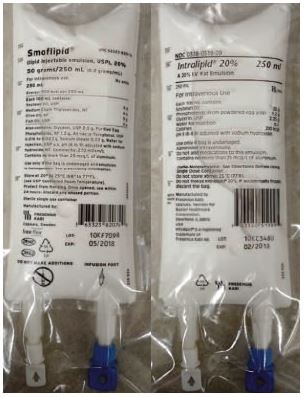 ​ The American Society for Parenteral and Enteral Nutrition (ASPEN) has useful information about Smoflipid and Intralipid.
A hospital had not yet added Smoflipid to the formulary but had the fat emulsion available in the pharmacy to familiarize staff with the new product. Smoflipid was not an option on the parenteral nutrition order sets, which were in the process of being updated. Thus, the only IV lipid emulsion that could be ordered was Intralipid 20%. However, pharmacy staff noticed a decrease in the Smoflipid stock and believe this might have been dispensed instead of Intralipid, as the two products were stored near each other.
Given the various oils in Smoflipid, the primary concern with dispensing this product instead of Intralipid is with patients who have an allergy to fish (which poses no problem with Intralipid). Also, unlike Intralipid, Smoflipid does not have a pediatric indication if dispensed in error to this population.
The hospital has since added look-alike stickers to bags of Smoflipid to help differentiate it from Intralipid, and the product name is listed first ("Smoflipid [Fat Emulsion 20%]" and "Intralipid [Fat Emulsion 20%]" versus listing "Fat Emulsion" first) in the carousel where both lipid emulsions are now stored in separate locations. Also, the barcodes are scanned before stocking and removing the products from the carousel, which will help prevent product mix-ups.
To further differentiate the lipid emulsions, another hospital reported that it includes a note about the type of fat in each product in the prescribing system ("soybean only" for Intralipid, "fish oil based" for Smoflipid). This hospital also uses tall man lettering in the prescribing system (SMOFlipid and INTRAlipid). ISMP would also recommend sequestering any products before they are officially added to the formulary and before all processes are in place to support their safe use. A failure mode and effects analysis (FMEA) and/or a drug name and packaging review prior to formulary approval of new products is also important, although this would not have prevented the dispensing errors described above.
Fresenius Kabi is aware of product similarities and is evaluating the problem internally.