ISMP Alerts
Packaging Could Lead to Acetaminophen Overdoses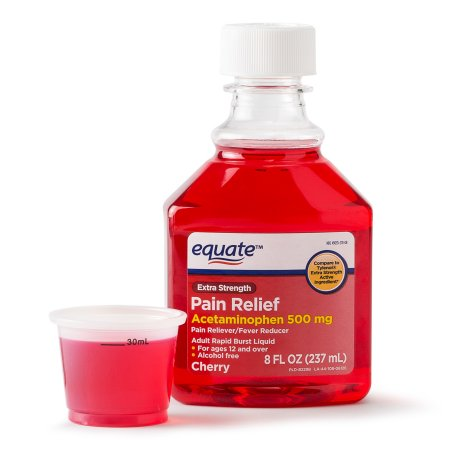 Misleading acetaminophen liquid packaging could lead to acetaminophen overdoses. Caution is advised regarding labeling and packaging of acetaminophen liquid products now on store shelves at several leading chain pharmacies.  CVS, Walgreen, Walmart and likely other chain pharmacies are currently selling 240 mL bottles of the product with labels that fail to indicate product strength. While the label states "500 mg," no volume is listed to help users recognize the product strength is 500 mg in 15 mL (the equivalent of approximately one tablespoonful).  At the same time, an accompanying dosing cup is only marked 30 mL, which is 1 gram, not 500 mg. Information about the proper strength and dose is printed in the accompanying drug facts panel. However, unless the drug facts label on back of the container is peeled open, this important information will be missed.  Thus, it is possible that consumers may be misled into double dosing - a 2 g dose if the user believes 30 mL marks a 500 mg dose. 
ISMP has interacted with FDA and Walmart about this misleading labeling. The product should be recalled, given the risk of double dosing up to 8 grams per day at the suggested frequency of every 6 hours.
More Alerts
If you are using NUCALA (mepolizumab) for patients who have eosinophilic asthma, please check to ensure the correct volume is being dispensed. Some healthcare practitioners have been confused by the vial labeling.
The FDA strengthens warnings that fluoroquinolone antibiotics may cause significant decreases in blood sugar and certain mental health side effects.
Given the near total lack of availability of potassium chloride for injection concentrate in vials (2 mEq/mL), along with problems accessing...