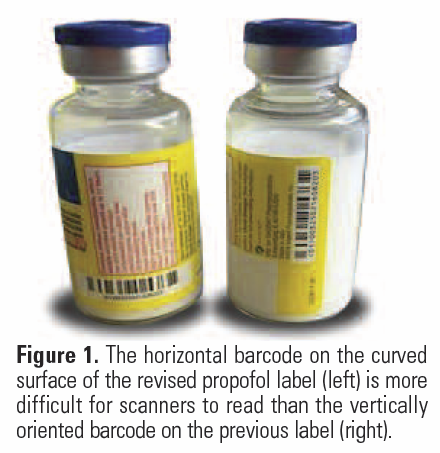 The recently revised label on propofol 200 mg/20 mL vials by Sagent Pharmaceuticals is likely to cause problems during barcode scanning now that the barcode is printed horizontally around a curved surface (Figure 1).
Previously, the barcode was printed vertically and was easy to scan. We have received reports of significant scanning issues, and one organization that reported this is now purchasing the drug from a different source. The October 19, 2017, issue of the ISMP Medication Safety Alert! included an article about unreadable barcodes with examples of other products with similar issues. ISMP has notified both the US Food and Drug Administration (FDA) and Sagent. We are investigating whether other products and strengths have been similarly revised. Other pharmaceutical companies need to take notice, as scanners often can't read linear barcodes printed on a curved surface.
More Alerts
The FDA strengthens warnings that fluoroquinolone antibiotics may cause significant decreases in blood sugar and certain mental health side effects.
Given the near total lack of availability of potassium chloride for injection concentrate in vials (2 mEq/mL), along with problems accessing...
The FDA is alerting healthcare professionals and patients about decreased survival associated with the use of pembrolizumab or atezolizumab as monotherapy therapy in clinical trials.