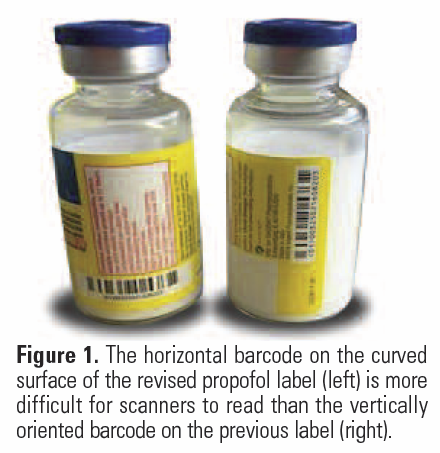 The recently revised label on propofol 200 mg/20 mL vials by Sagent Pharmaceuticals is likely to cause problems during barcode scanning now that the barcode is printed horizontally around a curved surface (Figure 1).
Previously, the barcode was printed vertically and was easy to scan. We have received reports of significant scanning issues, and one organization that reported this is now purchasing the drug from a different source. The October 19, 2017, issue of the ISMP Medication Safety Alert! included an article about unreadable barcodes with examples of other products with similar issues. ISMP has notified both the US Food and Drug Administration (FDA) and Sagent. We are investigating whether other products and strengths have been similarly revised. Other pharmaceutical companies need to take notice, as scanners often can't read linear barcodes printed on a curved surface.
More Alerts
Misleading acetaminophen liquid packaging could lead to acetaminophen overdoses. Caution is advised regarding labeling and packaging of acetaminophen liquid products now on store shelves at several leading chain pharmacies. CVS, Walgreen, Walmart and likely other chain pharmacies are currently
In two recent surveys on smart infusion pump (smart pump) usage in the US, more than 1,000 nurses, pharmacists, and other healthcare professionals provided ISMP with a unique glimpse into the successes, safety concerns, and barriers with the optimization of smart pumps. Most respondents reported
Increasingly, ISMP has been receiving complaints and reports of errors, some serious, about prefilled compounded syringes that look alike...